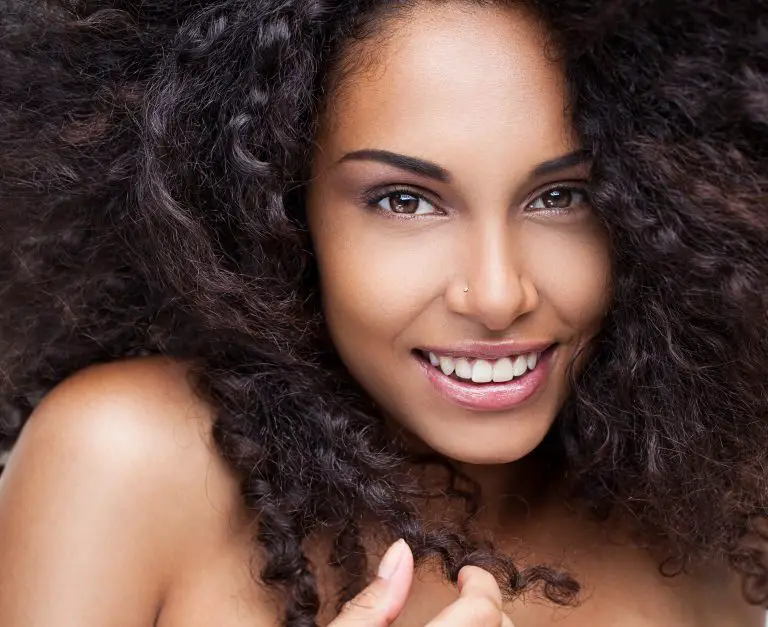 It can be really daunting to find the best pomade for curly hair, especially if you don't even know what you're looking for.
The good news; however, is that we've researched the best pomades on the market and discovered which ones actually work on curly hair.
Pomades have been primarily associated with men's hairstyles, but women can equally use these products. They're useful for a variety of uses – when defining curls, laying edges, taming flyaways, and even adding voluminous bounce to fine hair.
Interestingly, most pomades possess a heavier and thicker consistency than other hair styling products to seal in moisture. They improve shine and define textured hair much more than serums, gel, mousse, and creams.
Here are the best pomades for wavy and curly hair that topped our list.
Best Pomade for Curly Hair
Why Use Pomade For Curly Hair?
Whether your hair is wavy or curly, you know that it can be a challenge to keep your hair in place all day. And apart from that, styling curly hair can also be a herculean task. Because of these two factors, pomade is indeed a popular choice when styling wavy or curly hair.
That said, below are some of the reasons why pomade is good for curly hair:
Shine
Pomades usually come in either shiny or matte finishes, which is very useful for wavy and curly hairstyles that require a textured or dapper look.
Interestingly, almost any type of pomade on the market can be made to have high or low shine depending on how it's applied to your hair.
Hold and Control
While curly hair always seems frizzy or messy, hair pomades often create a sense of order and style in all the chaos.
Additionally, using medium to strong hold pomades lets you control your hair, making your hairstyle last for an extended period of time.
Good Ingredients
Using a hair care product formulated with natural ingredients can help prevent scalp acne, skin irritations, and damaged hair caused by harsh chemicals. Good enough, all the pomade brands listed here use only natural ingredients.
Restyling
Unlike gels or sprays, water-based pomades can be restyled with water to enable for easy tweaking during the day. In other words, you never have to worry about having a messed up hair.
Curly Hair Pomade Reviews
1. REUZEL Strong Hold Pomade Blue
Last update on 2023-09-20 / Affiliate links / Images from Amazon Product Advertising API
This is a highly concentrated pomade that can be used on all types of hair in terms of thickness and texture.
It provides a high shine and stronghold to the hair, thus creating a well-polished look. It is also water-soluble and can dissolve in water easily, regardless of being similar to heavy wax. You can use the REUZEL Strong Hold Pomade for both high pompadours and quiff hairstyles.
Fortunately, it's made up of wet based formulas only and you're guaranteed of your hair being kept soft and without hardening or flakes all through the day.
With this product, your hair will be able to retain its pliability for an extended time. Apart from that, the product is equally combined with a little warm vanilla wood, which has a great scent.
Reuzel Pomade does not harden or dry in the hair so you're able to restyle as needed all through the day without losing shine or control.
You just have nothing to worry about this product as it's built to keep your hair looking great and in place throughout the day.

Pros
Works on all hair types
Highly effective
Keeps hair from flaking
Reasonably priced
Cons
Some users complained that the scent is relatively strong
2. Layrite Deluxe Original Pomade
Last update on 2023-09-20 / Affiliate links / Images from Amazon Product Advertising API
Layrite's produces one of the most popular pomades on the market. Water-soluble with an impressive smell and strong hold, all Layrite products tick all the essential boxes for a pomade made for wavy and curly hair.
Layrite is highly recommended for people that need versatility to style all types of cool hairstyles, and it's ideal for all hair types.
Apart from having a sweet, subtle vanilla scent this product also has a medium hold, which makes it extremely easy to apply on curly hair.
Additionally, Layrite Deluxe Original has a natural shine, an excellent feature for individuals who don't like the overly slicked shiny look.​
Some users of the product confirmed that it works especially well on thick hair regardless of its medium hold.

Pros
Impressive odor
Strong and consistent hold
Easy to wash out
Easy to use
Cons
Doesn't work so well on ethnic hair
Some people said it feels heavy on their hair
3. Suavecito Pomade Firme Hold
Last update on 2023-09-20 / Affiliate links / Images from Amazon Product Advertising API
Suavecito Firme Hold is another wonderful pomade that promises a strong hold with medium shine.
This curly hair pomade acts as a creamy hair styling alternative by simplifying the combing process and ensuring styling flexibility.
It has a very mild and unisex scent that's suitable for both men and women – and also provides maximum hair grip to ensure your hair is kept in place.
Furthermore, Suavecito Pomade is soluble in water, which makes it very easy and effortless to wash out. It comes in four different sizes based on their specifications.
Being one of the best-selling hair pomades on the market, we also recommend Suavecito for both men and women styling a variety of retro and modern hairstyles!

Pros
Provides maximum hair grip
It's a unisex product
Highly soluble in water
Strong hold
Combs with ease
4. Layrite Super hold Pomade
Last update on 2023-09-20 / Affiliate links / Images from Amazon Product Advertising API
This is yet another wonderful pomade from Layrite. The Layrite Super Hold is an amazing water-based pomade that provides ultimate control and powerful hold for the most challenging, demanding, and difficult to manage hair.
It works excellently on cowlicks. Depending on your hair type, use Layrite Original Pomade, 4.2 Ounce (Pack of 1) (mentioned earlier) in most places and then use Super Hold for areas that fight back.
This pomade is simply a must use for anyone hunting for healthy hair. It has a very commendable capability due to its ability to easily hold hair firm and being easy to wash off.
One thing that sets this pomade apart from the other related products is that the more the quantity you apply in your hair, the stronger the hold.

Pros
Extra control for difficult hair
Easily grip hair to shape
It's easy to rinse off
Never dries or flakes
5. American Crew Pomade
Sale
Last update on 2023-09-20 / Affiliate links / Images from Amazon Product Advertising API
The American Crew has established itself as a classic brand in the haircare industry. Their popular pomade is popular for providing nice medium hold and a quiet but stimulating natural scent.
This curly hair pomade is an incredibly versatile product that can be used on both curly and wavy hair and offers flexible styling gel alternatives.
It's essentially a water-based formula so you can easily shampoo it out easily without leaving residues in the hair. Apart from all these, the American Crew Pomade also provides a medium hold while still upholding a high shine.
You can apply it by simply working a little amount through dry or damp hair so as to achieve a marvelous shine and pliable hold.
Finally, the American crew is not only excellent for the convenience of its supply, but it's famous for producing only quality products and their pomade is not an exception.

Pros
Easy to wash out with shampoo
Formulated with natural ingredients
Offers amazing hold for any hairstyle
No synthetic addictive
Cons
Some users complained of not getting the exact product they ordered for
6. Imperial Barber Classic Pomade
Last update on 2023-09-20 / Affiliate links / Images from Amazon Product Advertising API
This is one of the best pomades for wavy hair. Imperial Barber Classic Pomade is a high-hold, low-shine product that's suitable for tight hairstyles. The pomade is classified as "industrial strength," making it ideal for those who want maximum control of their curly hair.
It has a unique but subtle watermelon scent. Imperial Barber pomade is a hair styling product that goes on smooth and even and can be easily diluted with water when needed.
What separates it from the rest is the extra-long fibers in it. Like with the Layrite Deluxe, this product has a medium hold and a natural shine.​
Its pliability also made it loved by many – even if things get really bad, you can always adjust your locks without reapplying the pomade.
the CLASSIC POMADE also allows you to adjust the hold strength depending on the amount of water in your hair. For a lighter hold, apply with water or on damp hair while the strongest hold can be achieved with a slightly heavier amount on dry hair.

Pros
Strong holding water-based pomade
Smooth and even application
It's water reactivatable (helps for easy re-styling)
Easy and clean rinse off
Cons
Some users are not happy with the watermelon scent
7. Smooth Viking super hold & super shine
Sale
Last update on 2023-09-20 / Affiliate links / Images from Amazon Product Advertising API
The Smooth Viking Super Hold is another great product. It's mostly ideal by people with wavy, straight and thick hair. It helps to ensure that your hair has a sleek and dapper look, and it'll also get rid of any mess or fuss on the hair.
This pomade for thick hair is formulated with an easy soluble ingredient making it easy to apply and wash off while also giving a medium hold and shine to the hair.
Furthermore, while using the product, you can simply apply a little amount to your hair, after which you can style it and you're done with your hair care for the day. Just give the product a try and see for yourself.

Pros
It's unisex
Has a matte finish
Very affordable
Can tame even the most difficult hair
Cons
Doesn't smell so nice (medicinal scent)
Does not hold so well
Different Types of Curly Hair​
According to Rogelio at Manly Curls, the five types of curly hair include:
Type 1: 2 to 3 inches to form a curl
Type 2: 1 to 2 inches to form a curl
Type 3: 5 to 1 inch to form a curl
Type 4: 125 to 0.5 of an inch to form a curl
Type 5: up to 0.125 of an inch to form a curl
This totally depends on how many inches the hair must grow before it forms a curl.
Others categorize curly hair into four types, from type 1 (straight) to type 4 (kinky). With each type having three subcategories (1a, 1b, 1c), which differentiate shades of curls and texture/
That said, the product you choose to use largely depends on your kind of curls.
However, the nature of your curls is only a part of the story. This is because your hair texture also matters. Curlier hairs generally tend to be coarser, which is why kinky hair often needs a different hair product than wavy hair.
Finally, softer texture hair would require light styling creams, while kinky hair would require a product that's heavier and has more moisture-retention qualities, just like using the LOC method.​
Related Reading
How To Apply Pomade To Curly Hair
It's incredibly easy to apply pomade to curly hair. The process is not much different than other types of hair. The best way to put pomade in your wavy or curly hair is to first of all, figure out how rigid you want to style your hair, and how you want your hairstyle to look in terms of neatness.
The first part is to know how much pomade you should use. If you want a style that will stay throughout the day, apply a nickel to a quarter-size amount of pomade without diluting it, depending on the length and thickness of your hair.
Otherwise, use less amount or dilute it with water if you're going for a hairstyle that still gives room for some flexibility and movement.
And for the second part, you want to ensure that you know how you want your curly/wavy hair styled. If you're looking for a clean look like a side part or comb over, create your desired hairstyle using a comb (after applying the pomade).
For curly hairstyles such as fringes, use your hands to apply the pomade and run your fingers through from every direction.
Water or Oil Based Product | Which is the Best?
When it comes to the formulation of pomades, you must always choose between water and oil-based product.
Choosing one over the other is primarily based on your desired look and how it will get worked into your lifestyle.
Now, if you want a pomade that will always hold and maintain your hair during your regular busy schedule, then an oil-based formula will perhaps be the best choice. Oil-based pomades are designed to keep your hair in place even if you sweat copiously.
Additionally, oil based hair products will take extra effort to clean and wash off properly from your hair as they don't mix well with water, which is usually a challenge.
On the contrary, water-based pomades won't provide nearly the same level of shine as oil based but it will be somewhat easier to wash out of your hair.
Furthermore, water based pomade may be the ideal option for people that lives a simple lifestyle and just want a low shine look.
Pomades for Wavy Hair | Conclusion
Because there are many curly hair pomades out there today, choosing the one that's proven to work can be a difficult task. However, we hope that you've been able to pick one from the list, knowing that only the top-rated curly hair pomades made it to our list.
Now, check out these effective hair pomades and let us know what you think.