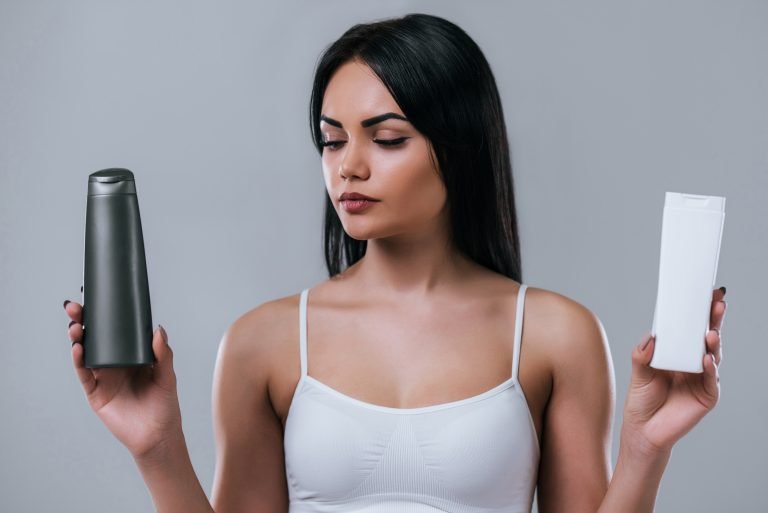 Sometimes, when deciding between two shampoos, it is nice to have a closer comparison of them.
In this case, both Revita and Pura D'or are hair companies that have shampoos for hair loss. How these two shampoos compare to each other is what we are about to look at.
About Revita
The Revita Hair Stimulating Shampoo is the first one that we will be looking at. It is a formula designed by DS Laboratories. This company is a pretty good one, researching its ingredients thoroughly and testing out new ideas.
The Revita Shampoo gives results for men and women who are concerned about hair loss. Thinning hair and pattern baldness of both men and women are things that its goal is to help with. This shampoo tries to do all of that in as short a period of time as possible.
The formula also helps maintain your scalp vitality while acting against any dysfunctions of your follicles. These two things help your hair in many more ways than most shampoos do. The Revita Shampoo covers all of these things by using a variety of ingredients.
Some of the compounds in the shampoo are ones that work as dihydrotestosterone blockers (DHT blockers).
Meanwhile, there is caffeine and other things to help with circulation, as well as biotin and other nutrients to enrich your hair.
These are in addition to the antioxidant and anti-androgen properties, the hydrating molecules, and the amino acids.
In short, the Revita Shampoo has a great list of ingredients. In the studies done on these ingredients, they did a great job of helping achieve faster hair growth as well as new hair growth.
This was even after noted hair loss and on all hair types and after the very first day of use.
Using the Revita Shampoo is pretty easy, though you are told to leave it in your hair for a couple minutes before you start rinsing.
This shampoo starts acting on your scalp by reviving hair follicles. How long it will take the shampoo will depend, of course, on the severity of the hair loss.
The Advantages
The Revita Shampoo has many advantages to offer you and your hair. More than that, Revita has a lot to offer you as well.
While many hair companies claim that they have done studies, Revita is one of the few companies that actually prove it.
If you want to research Revita, they freely publish the various studies that they have done for you to peruse.
These have lots of details in them and are the reason why the shampoo is considered hypo-allergenic. Being rated hypo-allergenic is definitely an advantage in and of itself.
Along with the Revita ingredients, the list of things that they don't include is also great. No phthalates or parabens are in it. This shampoo is also certified as being cruelty-free and oxo-biodegradable as well. The curly hair-approved certification is also a nice touch for those whom it affects.
Many of the benefits of Revita are that it is great for the environment.
Between their certifications and the packaging products, they do a great job of doing good for the planet.
The price of this shampoo is average, but there are ways to save on the Revita products that make them more affordable. There are three different sizes of bottles that you can buy the shampoo in, with larger bottles being cheaper. 
Then, there is also the popular option to use the Revita subscribe and save feature. This means that Revita will automatically ship it to you periodically, and you can cancel on their site at any time.
Revita also offers free shipping on orders that are over a certain size.
Finally, the last advantage of Revita Shampoo is the fact that it is dermatologist-approved. Very few hair products get this sort of recommendation, so it is a pretty big deal.
Read also: Actiiv thickening shampoo review.
The Disadvantages
Though it is pretty great overall, the Revita Shampoo is not perfect. It has some key faults in it that might make you reconsider.
These potential flaws are things that you should know about before you buy the shampoo.
One thing that you should note about Revita is the fact that they don't mention anything about a warranty.
Though they do accept returns, there is no guarantee of any kind that they will. In order to even find out if you can get a refund, you have to contact them about it.
Besides being just plain inefficient, this is very worrisome if you are not certain that Revita Shampoo is going to work for you.
Though the odds are that the shampoo will really help with your hair, it may very well not help you.
While you are given the studies and the main compounds that are in this shampoo, you are not shown the full list of ingredients. This is yet another shortcoming that could be quite worrisome.
True, the ingredients they show could be all that they use, but they never confirm this.
The hypo-allergenic rating may put some of the potential worries at ease. But they still could tell you what is in their product.
Next, the ingredients of this shampoo and the other Revita shampoo options are all rather similar.
All in all, Revita still has a good shampoo here, but they could use some more work on sharing some information.
If you need that information from Revita or not, it is something you must decide. You may decide that specific information is not things you need to know.
Related Reading
About Pura D'or
The Pura D'or Hair Thinning Therapy Shampoo is the other option that we are looking at. Its main focus is to help with hair loss by strengthening your hair to reduce breakage. This helps with volume, thickness, shine, split ends, and aids in keeping your scalp healthy.
This is done by a blend made primarily of organic ingredients.
The very first ingredient is Aloe Vera leaf juice, which is one you are likely familiar with. Many of the rest are just as good. As far as plants go, there is Tea Tree oil, Black Cumin seed oil, Amla fruit oil, Nettle leaf extract, Cedarwood Bark oil, Rosemary leaf oil, Clary oil, Lemon peel oil, Argan oil, Hibiscus flower extract, and Green Tea leaf extract.
Some of those plant oils and extracts are quite familiar. However, others like the He Shou Wu root extract, which is also included, are almost unheard of.
Meanwhile, Biotin, Vitamin E, and Saw Palmetto extract are three more of the ingredients.
Though there are a few others, these ones make up most of what is in the shampoo. It should be plain to see that Pura D'or has done a pretty good job of making it both hypo-allergenic and vegan.
Completely free from harsh chemicals, it is also environmentally responsible.
The Pura D'or company, like the Revita one, focuses on hair products. Though this company doesn't have a track record of doing studies, they have at least done one on this shampoo.
As for using it, Pura D'or is one that asks you to leave their thinning shampoo in your hair for a while. They also want you to use the shampoo for at least three months, which is a bit longer than you might want.
The Advantages
In addition to having many great ingredients, most of these are even certified as organic. This means that, when they were growing, there was no pesticides or anything like that used on the plants. It also means that these harmful chemicals will not have accidentally made their way into the shampoo.
When combined with the fact that the ingredients are pretty good already, the list of them goes from good to great.
Many of the Pura D'or ingredients are exceptional enough as it is. But this shampoo product has a few other really nice things about it.
For starters, Pura D'or makes this shampoo with no sulfates, parabens, or other harmful chemicals. It is both gluten-free, vegan, and hypo-allergenic as well.
On top of that, this shampoo is also made using cruelty-free practices and in the USA. Lastly, this thinning shampoo is even color-safe.
The facilities that make this shampoo are not only located in the USA, but they are also eco-friendly in that they use renewable energy.
The price for the Pura D'or Shampoo is also not too bad, though it is not one of the cheapest.
However, you can save some on the Pura D'or website by subscribing. Then there are also the usual bundling deals by buying one or two of their other products as well.
These each help just a little on the price you pay for this shampoo.
The Disadvantages
No shampoo is perfect, and neither is this one from Pura D'or. Then the shampoo ingredients are also in question.
Though, fortunately, there are all listed and easy to find, there are a couple that it could do without. These include the three different types of sodium, known to dry out hair.
Though these might be considered necessary as lathering and cleaning agents, there are other ways of achieving both.
Also, though citric acid is alright for most people, it is an ingredient that should be avoided by those with extreme reactions to wheat.
This is especially so since some claim that the shampoo is very watery and that they have to use a lot of it.
Considering that they do warn you about the absence of a lathering agent, though, this can't be counted too much against them.
Finally, there is the cheap marketing tactic that this company has been known to use. They occasionally include a sticker on their bottles stating that, if you give them a good review, they will give you a free bottle of it.
Therefore, it is extremely questionable just how many of the good reviews are genuine. Also, a good company that knows that they have a good product should not feel the need to resort to such a tactic just to boost their overall review.
Finally, some claim that there was an original shampoo that was great and that the company has since 'updated' the ingredients to a formula that does not work nearly as well. This is actually something hair companies sometimes do, and it is called a bait and switch method of selling.
So, you should be cautious about buying from this brand.
Comparing The Two
The advantage of using any shampoo for hair loss is the fact that you can use it with other treatments. That, and the fact that it won't add anything more to your plate or take time away from other things.
These two companies actually have quite a bit in common when you look at them.
Both focus on hair products, of which both have a variety. Both have done studies on their products, though Revita is clearly the winner here, having done many more than the other has.
Also, out of the two, it is worth noting that Revita is the one that is dermatologist recommended.
If Revita does share all of its ingredients, then this is better than the other in this way as well.
In addition, the DS Laboratories is a brand that is better established and more well-known than the other is.
In short, when comparing Revita and Pura D'or, Revita is the one that comes out on top. This is not to say that Revita is the best shampoo, though.