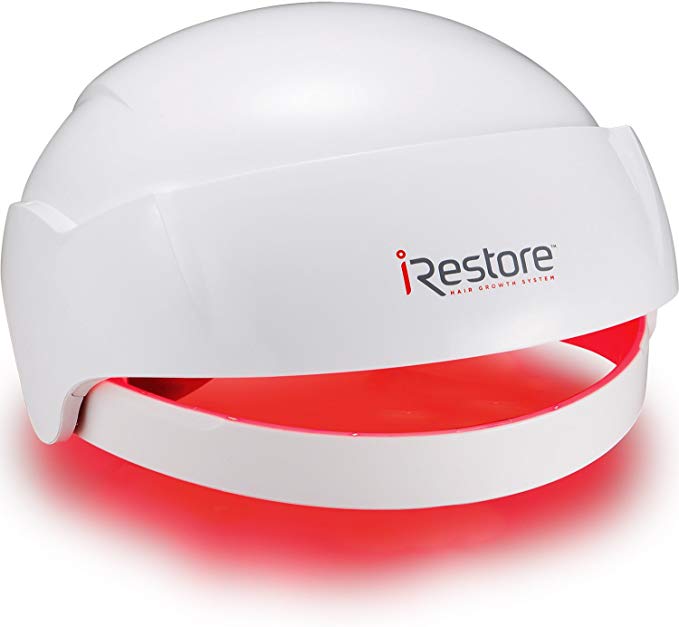 When it comes to thinning hair, the choices to replace and regrow hair are overwhelming. From simple hair fiber applications, to serums and supplements to surgeries, even wigs, the right treatment can become mind-boggling. Do they work? Can I afford the upkeep? Will it look natural? How long will it take? These are just a few of the questions surrounding today's hair replacement and regrowth treatments.
Sale
Last update on 2023-09-17 / Affiliate links / Images from Amazon Product Advertising API
Lasers for Hair Growth
One new hair regrowth product is sweeping the online retail market: Laser treatments. Laser hair regrowth helmets and combs have become super popular, and are the highest trending of all hair treatments currently available. Laser treatments are effective, safe, and most laser treatment devices are FDA approved and tested and retested to ensure safety and long-term functionality before becoming available to the public. But lasers, really?
Consider how light is most effective when it acts as a stimulant. Plants need light to process photosynthesis to keep leaves green and stems strong. The iRestore Essential, ID-500 laser hair growth system is a wearable helmet that uses light; and much like leaves need sunlight to stay stimulated and green, laser light emitted from the iRestore evenly covers the scalp with a combination of laser and LED lights. The light is powerful enough to stimulate new hair growth at the root.
With 21 points of laser light built into the iRestore helmet, the laser light works to stimulate the superficial tissues on the scalp. This allows room for new in the thinning areas. At the same time, iRestore provides stimulations deep into the scalp, vital for the growth of new hair. Most of the hair follicles already in place are not disturbed or damaged in the process.
Innovators in laser technology since 2003, the iRestore Essential, ID-500 is proudly manufactured by iRestore Hair Growth Systems. They are leaders in the laser technology industry. An impressive 43.23% increase of hair count in men and women, actively using the helmet, as directed, was recorded in a 2022 research study.
Pros
Clinically proven to treat hair loss for BOTH men and women.

This laser therapy is non-invasive and safe.

Stimulates hair follicles to grow thicker hair and treat hair fall.
Cons
Extremely expensive; however, you will see great results. 
Under the Helmet
Before beginning a laser hair growth treatment talk to a physician. Understand potential side effects, as these can include redness and discoloration of the skin, swelling of the hair follicle, scalp pain and scabbing. Never stare into the laser lights as this can severely cause damage to the eyes, and keep the helmet away from water. Also, don't let children play with the helmet.
To discover if laser therapy is the right option, iRestore recommends taking their online hair loss quiz.
There is no question, the iRestore is literally a helmet. Much like a helmet worn when riding a bicycle or rollerblading. It isn't a modest hair restorative, leave-in treatment or invisible shake-in fiber. Laser hair restoration requires dedication. And the user must invest time and a regular routine for the iRestore to work effectively. iRestore recommends 3-4 times a week, 25 minutes per treatment. If you've got a minimum of an hour and a half a week, there is time for iRestore.
The iRestore weighs in at close to 3 pounds. It attaches to a 7ft. AC adapter. Wear the laser hair stimulating helmet in the privacy of the home while watching television, reading, cooking dinner or taking a nap. Separate battery packs are available for purchase. Choose this if tethering to the cord isn't an option. But, remember, it's a helmet. I probably isn't office friendly.
And Then There was Light
iRestore is a combination of time and patience, as the scalp and thinning areas need time to absorb the laser light. With each 25 minute treatment, that absorption disrupts the metabolic rate of the cells needing stimulated. The stimulation encourages an increase in energy efficiency. The energy works to reactive the dead follicles, which in turn assist in helping the new hair grow.
In the initial stages of laser light hair restoration therapy, it's normal for thinning and damaged hair follicles to loosen and shed. This is not a side effect, and as thinner hair sheds, it makes way for new stronger, and thicker hair follicles. With a clear path for new hair growth, the laser turns up the metabolic cell rate and users typically see results within 12-14 weeks. Noticeable hair loss should be significantly less after 4 months. At the 6 month mark, and with regular dedicated treatments, new hair growth is considerable.
iRestore stands by their laser hair restore products with a 6 month, "see no hair" 100% money back guarantee, no questions asked. And iRestore provides amazing customer service. The iRestore Essential, ID-500 is lightweight and durable. It doesn't bind or constrict the head during performance. It beats laser comb devices since it sits still on the head and doesn't require constant hand movements which require focus and interrupt normal activities.
Sale
Last update on 2023-09-17 / Affiliate links / Images from Amazon Product Advertising API
We've given you our review of the iRestore Essential, ID-500, now check out what actual user's are saying about this unique safe, FDA approved and trending hair growth treatment. And don't forget to take the iRestore quiz before committing.
Tired of chasing down hair growth solutions without the results you're after? Make sure you're using the 3 hair loss products known to work before experimenting with alternative solutions – you may be surprised with how effective those 3 alone can be.