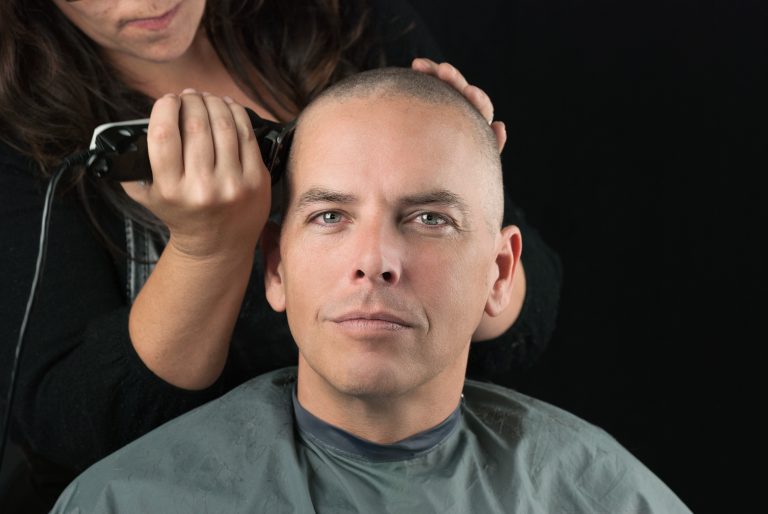 Your head, along with your face, is one of the first things that people will notice about you. So, getting a crisp-looking shave is very important if you are planning to go with the bald look. Since it is equally important to shave without getting nicks and scrapes, it is important to pick your shaver carefully.
The wrong electric head shaver can make your scalp looked bumpy and scratched up, completely ruining the effect. Since choosing the right shaver is so important, I'll list a few great options in addition to telling you what to look for.
Electric Vs. Manual
Before I tell you the top electric head shavers, it is important to know why electric shavers are the way to go. Some men feel that manual shavers are the only real shavers that work for shaving your head. But electric shavers can get just as close of a cut to your skull as manual ones can.
True, lower-quality electric shavers won't ever be able to get as fine of a cut. However, a good electric shaver should be able to give you that crisp, smooth look you want.
What's more, electric shavers let you shave your head much faster, shortening your morning routine. All you do in most cases is turn on your shaver, run it over your head several times, and plug it back in when you are done.
Manual shavers have the advantage of it lasting longer and giving you a slightly cleaner look. This type of shaver is also cheaper, smaller, lighter, and easier to take places with you. This makes them easier to hold up to your head, and easier for your pocketbook.
Meanwhile, electric shavers are much faster, even though they are also heavier and more expensive. However, electric shavers are also built to last for years, sometimes good quality ones can last up to ten years.
Considering how many manual shavers you would have to buy during that time, an electric one may be cheaper in the long run. Electric shavers are also far less likely to nick and scrape the skin of your scalp, making for a much less steep learning curve.
Finally, manual shavers are just plain messy with shaving cream and pieces of hair everywhere. Electric shavers often don't need the shaving cream, and most of them have a catch of some time to collect the small hairs.
The Best 7 Head Shavers
These electric head shavers have quite a few similarities in some cases, but only the best qualities. Depending on the shaver type you are looking for, any one might be the best one in your opinion. But feel free to try any electric shaver on this list with confidence.
#1. Braun Electric Shaver Series 7
Once again, Braun is a company that has a few different options when it comes to shavers. While their Series 7 is one of their more expensive options, it is also their most popular for good reason. One reason is the charging station, which is really nice.
The charging station does more than give you a place to put your shaver when you are done with it. Besides charging it, the station cleans, lubricates, and dries the blades of your shaver as well. You can clean your shaver yourself, if you like, which is also easy to do.
Speaking of charging, the battery of this shaver is amazing. It only needs to charge for an hour or so to have a good half an hour of charge. So, charging it for just a few minutes is enough to give you enough time to shave. Or, use this shaver's corded option if you don't have time to charge it.
Though this Braun shaver is not specifically for heads, it works very well for bald scalps. The fact that it also works well for shaving your face can be a positive thing. Wherever you use this Braun shaver, the skin guard helps make sure that you don't nick your skin.
This shaver also has five different shaving modes you can choose from. These five modes let you determine if you want more power or gentleness. This lets it cut hair as short as 0.05mm for almost perfect closeness on your scalp.
The Braun Series 3 shaver is less expensive, but it doesn't hold its charge as long. Nor does the Series 3 have the charging station. However, more expensive is the Braun Series 9, which does have the station and an even more noiseless design.
#2. AidallsWellup 7D
The AidallsWellup 7D Shaver is another great cordless shaver from a lesser-known company. It is a palm design with seven rotary blades on it, which is more than most. These seven blades have a certain curve to them to make it fit the natural curve of your scalp.
This shaver isn't too heavy or too expensive either. In fact, the AidallsWellup is one of the cheaper options for head shavers out there. What's more, this shaver comes with a list of perks to it that I will hit the highlights of.
For starters, this shaver has seven other attachments besides the head shaver itself that you can use. These include the nose and ear hair trimmer, a couple of brushes, and a few grooming tools for your mustache or beard.
Each of these attachments can be used in place of the head shaver attachment, making this shaver extremely versatile. This shaver is also versatile when it comes to plugging it in. The USB charger is of the sort to let you plug it into your carport so that you can shave on your way to work.
The battery of this palm shaver is pretty good too, taking only an hour or two to charge while lasting for around an hour as well. The LED display will tell you approximately how many minutes of power you have left. There is even an LED symbol that will remind you to clean it if you forget.
However, this symbol may not appear as soon as it should, as it will heat up if you don't clean it sooner. The shaver is easy enough to clean, but you have to be careful not to misplace the center rotary blade.
#3. Remington Balder Pro Head Shaver
Remington has only a few options or shavers, but their Balder Pro is probably their best for a close shave. This head shaver is one of the few that has a different design, fitting very nicely in your palm. This makes the shaver super easy to move around on your scalp, even in the back.
What also makes this Remington shaver easy is the rotaries cover a wider area and have a curved design. Under the five rotary blades, it has some flex to give a clean cut even in tighter areas. All of these make shaving with it quick and easy, not to mention the design is very light in weight.
The Balder Pro is completely waterproof, so you can clean it off easily or use it in the shower. The hair capture chamber opens easily and only requires a quick rinse. The non-slip grip of the shaver makes sure that you won't accidentally drop it even when it is wet.
Though this shaver is light, quick, and easy, it partially has to be. To cut back on the weight, the battery is light as well. This is why this shaver takes hours to charge up and only lasts up to just under one hour. With how fast this razor works, that is more than enough time, but it still indicates a poor battery.
Since the battery is the only way that this shaver works, that may be a problem. There is not a corded feature either for if you forget to charge it up. Still, all in all, this Remington shaver has a nice design and is much cheaper than many other electric shavers. The fact that the Balder Pro is made specifically for your head is a plus too.
#4. Philips Norelco Shaver 3800
While not specifically a head shaver, Philips is still one of the best electric shaver brands. An electric shaver list wouldn't be complete without at least one of the Philips options. For the best price and quality, the Norelco 3800 is probably the best.
The 3800 version has the rotating heads that pivot. The handle of this shaver had a nice grip to it that makes it easy to use. This shaver also has a lovely little trimmer on the side of it that has two purposes. First, the trimmer can be used on mustaches and beards.
The trimmer is also meant for trimming down your hair before you use the shaver. Unfortunately, this trimming is necessary, as it can sting and catch a little if your hair isn't short enough. Though the blades do pivot and are easy to clean, they also struggle a little with getting a close cut in some areas.
Also, the battery of the shaver only lasts about an hour, which is long enough to get your scalp shaved. It also doesn't have a corded mode in case you run out of juice – another downside. The fact that it can take eight hours to charge is hardly appealing as well.
On the flipside, this Philips shaver does come with a few other add-ons, such as a nice carrying case. It also shaves wet and dry and had an indicator.
Though the Norelco QC5570 has more features, it comes with an almost double price as well. The Norelco 7500 might be worth looking at, though, as it is for extra sensitive skin for those that get razor burn far too easily to use anything else. The 7500 version is doubly expensive as well, however, and not as sharp. So, I advise sticking with the 3800 version.
#5. Andis ProFoil Lithium Plus Shaver  
This foil shaver is one that can be used for your head or face. It gets a really close cut at a reasonable price, and it has a copper or titanium look and is durable. That is thanks to the shaver's thin foils, of which there are only two.
This Andis shaver will work both corded and on its battery, which is very nice. The battery of this shaver has a reasonable charge as well, lasting for about an hour. One hour is plenty of time to shave with this lightweight shaver, which has blades of hypoallergenic Gold titanium foil.
Unfortunately, this shaver is not waterproof at all, so be careful having it anywhere near water. Some Andis kits have the necessary brush you need to clean it, or you can use compressed air. So, stick with dry shaving only when using this shaver.
While this shaver doesn't have a battery display, it does have a nice charging port to set it in so that it is out of your way and doesn't get wet.
I also liked the Andis shaver that came with the bonus replacement foil blades and top part, as well as a cleaning brush. The shaver's replacement blades are also easy to find by themselves, which is not always the case with other shavers.
You can also easily find storage cases for this shaver for reasonably cheap, as well as a replacement power charger. All in all, the Andis shaver is a very simple and inexpensive option that is still a good quality shaver.
#6. Skull Shaver Pitbull Gold PRO
The Skull Shaver brand sells a variety of electric shavers. They even have a few of their Pitbull generation for you to choose from. However, the Skull Shaver Pitbull Gold option is the overall best for the price. It looks nice, has a lot going for it, and very little not to like.
This option has a rotary blade design, and it is battery-operated, so you don't need a cord. The LED display of the shaver will even say how much battery you have left. There is also the option to use this shaver while it is plugged in if necessary.
On the downside, this shaver only has a USB cable charger and not a wall adapter, which is a bit inconvenient but not unpardonable. The battery life of only about 90 minutes is also not the best. However, a couple of minutes should suffice for doing that.
I really liked the way this shaver fits perfectly in your hand, making getting the back of your head easy. The way of holding this shaver may take some getting used to, though. The blades on this Skull Shaver are just as good, being made to pivot to get as close as possible.
In addition, the blades are made to avoid irritating your skin, and they pop off for easy cleaning. It is waterproof enough to be used either dry or wet in your shower and with or without shaving cream.
Finally, the warranty on the shaver is great, lasting for over a year. However, the price of the shaver is not so great, which is why it isn't first on my list. In fact, the Skull Shaver Pitbull Gold is quite expensive, while being only moderately better than other options.
#7. Panasonic Arc5 Electric Razor LV97
Panasonic is another well-known razor brand that has a lot of options to offer. It looks really high-quality, but it also has that high quality price tag along with it. This shaver's price tag may be too much for some, but it does come with a few perks.
The Arc5 shaver is a foil design with five blades – hence the Arc5 – and is lightweight with a traditional handle. This shaver is also another battery-operated, and one that doesn't have a corded option. Built into the shaver is a pop-up trimmer for your mustache, beard, or to shorten your hair before shaving.
The LED on the Arc5 has two different parts to it. One which tells you the remaining battery in percentages, and the other that shows a circle turning red as charge is needed. The batter only has a 60-minute run time, which, though average, is not the best.
This Panasonic shaver does make up for this by being completely waterproof. As in so waterproof that you can safely use it while you are in the shower. The ultra-sharp, hypoallergenic blades mean that anyone can use it too.
The Acr5 is a line that has a few different shavers in it. Though the LV97 option is extremely expensive, it also has an amazing docking station. The station is not only the perfect place to put your shaver, but it charges your shaver without having a long cord.
The charging station even cleans your shaver when you place it in, so you don't have to worry about cleaning it yourself. The fact that the station dries it for you afterward at the push of a button is only another plus. So, though expensive, the LV97 may be worth the extra money.
A Couple Of Honorable Mentions
While Wahl is a company that focuses mostly on hair clippers instead of shavers, they do have some good options. They sell foil shavers that are also corded. So, if that is the shaver you want, then these tend to be pretty cheap.
The Wahl options don't have very many blades, nor do they always get the perfectly smooth feel over your scalp. It is also a bit heavy. However, they do come with cleaning brushes, combs, and other perks. In short, Wahl shavers are cheap in cost and a little cheaply made as well.
The Asavea Head Shaver is another honorable mention. This palm shaver is a bit cheaply made, in fact the cheapest one I have mentioned, but it does come with perks. The battery doesn't last long at all, but the grip is solid.
As for this shaver's perks, there are the different attachments that it comes with. The Asavea shaver has a hair and beard trimmer, a pre-shave brush, a facial brush, and a nose hair clipper. So, though Asavea is not a well-known brand, their head shaver is worth getting for those on tight budgets.
Buyer's Guide For Your Electric Shaver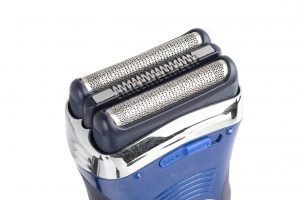 While the above electric shavers are all great, you may already have a shaver or two in mind. There is a list of notable features to look for in a shaver, one or two of which are a matter of opinion. If you are hunting for your own electric shaver, you should know what makes a good one before you start.
One thing to note is some electric shavers are made specifically to be used on heads. These ones, of course, are going to be better designed to go over the contours of your scalp. So, head shavers are going to be far better at shaving your scalp than shavers meant for your facial hair.
The Blades
Sharp blades are vital in razors, as dull blades can cause a lot of problems. Stainless steel blades are great at staying sharp, especially if there are multiple heads to spread the work around. Speaking of the number of blades, more blades are almost always better, but five is generally a good number.
There are two different types of blades on shavers: foil and rotary. These two are a personal opinion choice, though you should know that rotaries are far more important to keep sharp.
Foil electric shavers are more like the manual shaver you may be used to using. As such, foil blades are the old-school ones that are simple and get the job done. The foil blades also don't have as many parts to break or come apart on you, making them easier to clean as well.
The rotary type of electric shavers is much more complicated. They have slots, holes, and round designs that make for less time shaving. However, unless you get a good quality rotary shaver, you are not going to get as close of a shave in some areas as you can with a foil shaver. Also, many foil shavers tend to be louder and easier on sensitive skin than louder rotary blades.
Finally, different head shavers have what are known as different cutting levels. Different shaver manufacturers sometimes have different definitions of what exactly a clean shave is. Therefore, some shavers will leave a perfectly smooth scalp, while other shavers might leave the barest hint of stubble.
Corded Vs. Battery
Electric head shavers commonly come in both corded and battery-powered options. Cords can get in the way and don't work without electricity. However, the battery shavers take time to charge, which you may forget to do.
As the battery shavers get old, they will often not hold their charge properly, preventing you from using them. All in all, electric shavers that are battery operated but still have a corded function so that you can use it while plugged in are possibly the best for this reason, allowing you to have both.
The corded vs. battery debate is one that is had about a lot of different tools. You likely already have a preference here. Though, if you like to walk around while you shave, then clearly you need a battery one. Don't forget that cords will add to the weight you have to hold up, but more on that next.
The Comfort
There are a couple of shaver comfort things that you should keep in mind. The first shaving comfort is the weight of the shaver. Getting a really good shave takes time. Holding up a heavy electric shaver is going to introduce you to new muscles.
The heavier the shaver is, the shorter the amount of time is that you will feel like holding it up. This can both make you dread shaving your head each morning and also contribute to patchy shaving jobs when your arms get too tired to continue.
The other comfort factor that applies to shaving is the handle of it. Most electric shavers are shaped much like their manual counterparts, with a slender handle to hold. However, some shavers have a fingertip grip that can be much easier to get to the back of your head. Fingertip grips do take a while to get the hang of, though, so this is a matter of preference.
Other Details
Shavers that are waterproof are always preferable over ones that aren't. Waterproof ones are not likely to rust, and it is handier to shave right as you finish your shower. Some of the electric options are even safe to use while in your shower, though not right under the water.  
Another shaver detail to note is that some blades are self-lubricating. These ones can make shaving your scalp a lot smoother and ensure that you end up with fewer potential nicks.
Shavers with fewer parts and ones that are easy to take apart and clean are nice for obvious reasons. There are some shavers with auto clean systems that make cleaning it easier too. Whichever way you go with cleaning your shaver is important to prevent the growth of bacteria and molds. 
Then, shavers can also come with a variety of add-ons. There are pop-up side parts to get your hair shorter to make shaving easier. There are also charging stations, the fancier ones of which clean your shaver as well.
Other things your shaver might come with include cleaning brushes, travel cases, and a couple of other things. The charging station, in particular, is going to make the shaver more expensive. However, most of these add-ons are worth an increase in the price.
Finally, the shaver's warranty is also always something you want to take a look at. The warranty can allow you to return a shaver that just isn't the right fit for you instead of you being stuck with it. Brand name shavers of well-known companies are going to tend to have better warranties. However, it is not necessary to get a shaver from a big brand, which will also likely be more expensive.
Some Head Shaving Tips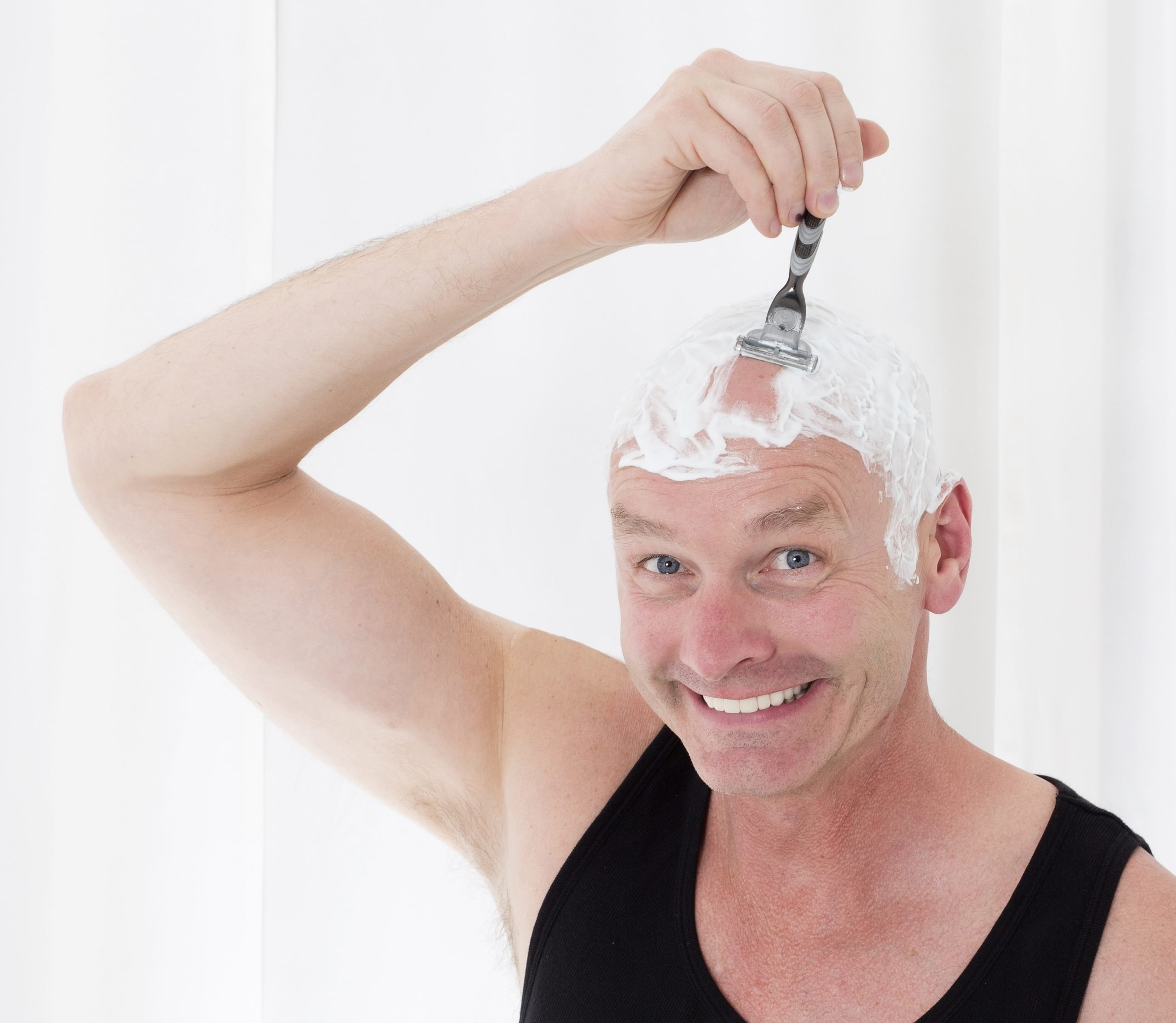 The most important tip about electric shavers is making sure that your blade stays sharp. Also, for battery-operated shavers, it is important that it stay charged up as much as possible. Some shavers might need you to lubricate the parts.
Refined machine oil is best for this, and make sure you clean away any buildup or grim of the grease. Lotion or shaving cream on your scalp can help with sensitive skin, especially for unlubricated blades. Shaving creams actually have stuff in them to make it easier for the blade to cut your hairs. So, those products work best.
Wetting your scalp, as long as your shaver can handle the moisture, is also extremely helpful sometimes. Wet shaves are perfect for after your shower, as heat can soften up your scalp, and cold can make your follicles poke out a bit more to get a closer cut.  
For shavers that are meant to be used dry, however, you don't want any moisture at all, not even from cream or lotion. Dry shaves are best done right before you shower; that way, you wash away any tiny hairs.
Also, while rounded rotary blades work in any direction, foil blades work best with a front-to-back motion. Shaving with either is best done every day or every other day on your scalp. Shaving every three days should be the least frequently, as longer hairs will catch and hurt when you shave.
At this rate, your shaver will last you about 5 to 10 years with proper care. However, the blades of the shaver should be replaced every year on average. Finally, don't press down when you shave. Doing so will not give you a closer shave and will only irritate your skin.
Final Thoughts
While electric shavers do make it easier to shave your head, you can use manual razors as well. But there are very few reasons to go manual when electric is so much easier. Whatever head shaver you choose to go with, the key is to wear your bald head with confidence.
There are many men who are bald, and many reasons why you might choose to try the bald look. Losing hair may make it just easier and less stressful to just cut it all off. Or, going bald may simply be a style choice or in order to cosplay as Dwayne Johnson or Vin Diesel.
So, though you might not personally know a bald person, there are plenty of people who rock the look. Getting the right head shaver is the first step in that direction.