Milano has always been open about her life, and she was equally open when she noticed hair loss. If you have hair loss, you may be wondering what caused her hair loss and what she did to get her hair growing back.
What Caused Alyssa Milano To Have Hair Loss?
Alyssa Milano tested positive for COVID-19 in 2020. Her recovery was quick and without any known complications. However, she later admitted to being a long-hauler.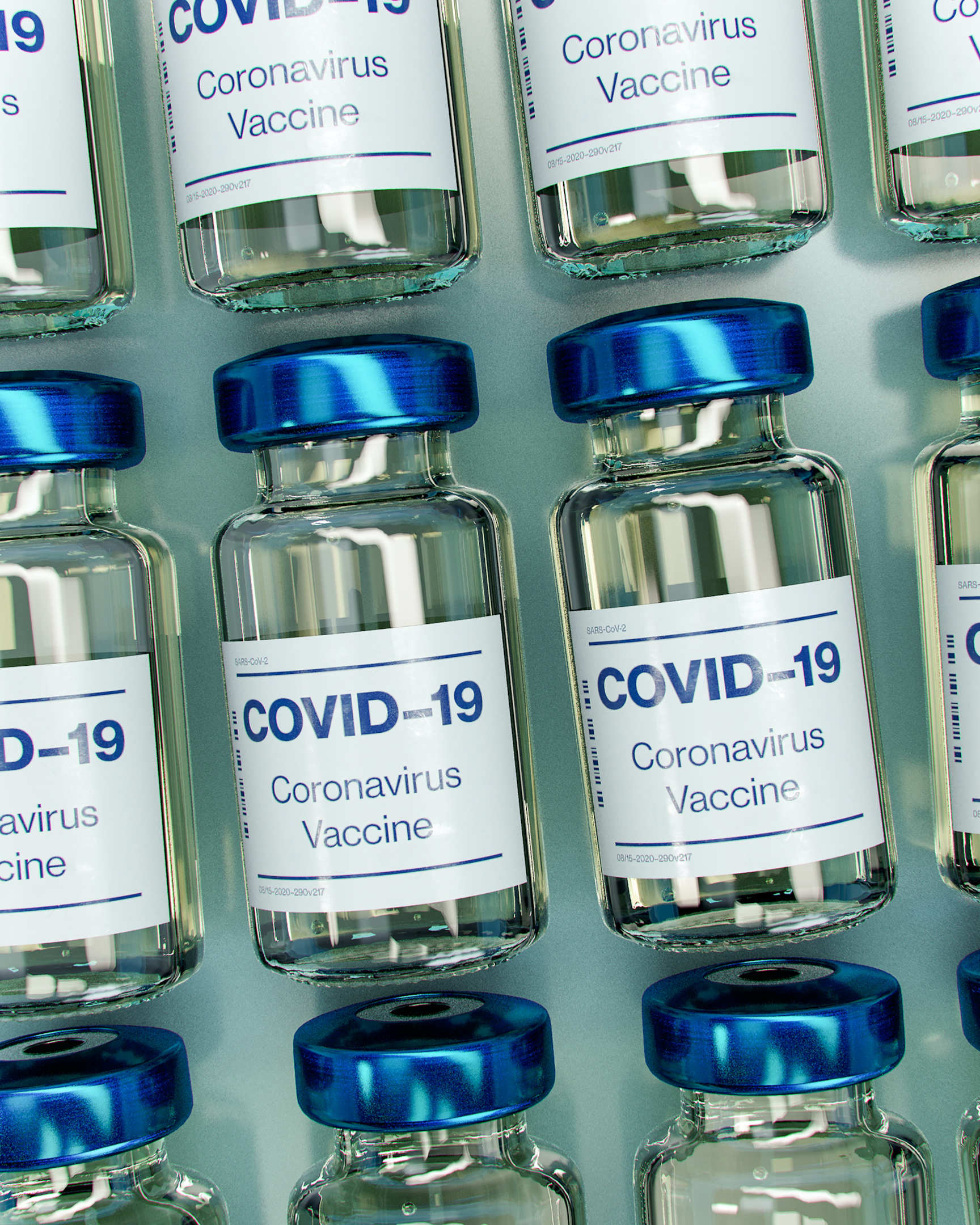 Long-haul symptoms of COVID-19 are ones that linger for months after you recover from the virus. Telogen effluvium is known to be a long-haul symptom.
This type of hair loss causes light thinning over the whole scalp as hair follicles that are in the resting phase of the hair growth cycle fall out before they are supposed to.
Other long-hauler symptoms she announced she's continuing to have includes heart palpitations, shortness of breath, and forgetfulness.
Later in 2020, Milano even posted a video where she was brushing her wet hair in front of the camera to show how much hair she was losing. She did this to stress how awful post covid hair loss was, urging people to take COVID-19 seriously, something she had previously told her followers.
What Hair Treatment Does Alyssa Milano Recommend?
In 2022, a fellow actress revealed her mom had hair loss from COVID-19 and asked for advice about a therapeutic remedy. This question was asked on Twitter, complete with a photo that showed a lot of hair on a brush. The reply was: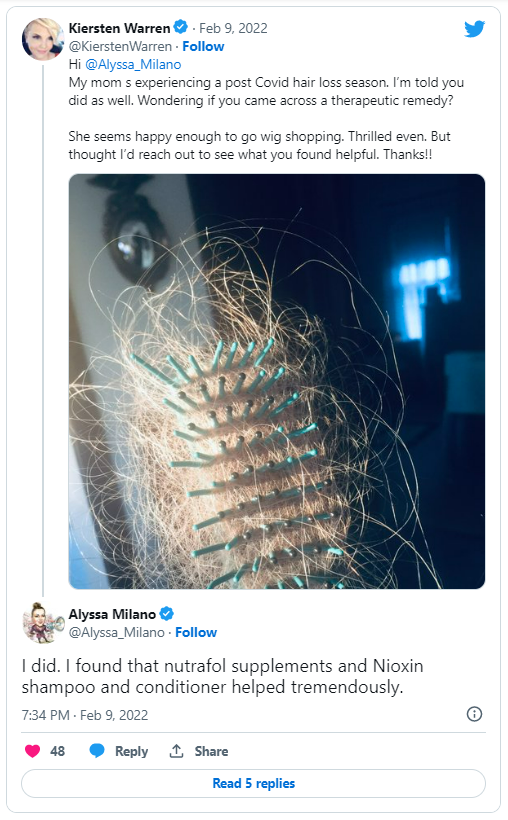 As you can see, Alyssa revealed that there are three main hair loss products that helped her achieve hair growth. These are:
Nutrafol supplements

Nioxin shampoo

Nioxin conditioner
Supposedly it was her friend and hairstylist Linh Nguyen who recommended the Nioxin products. Milano says her hair feels thicker with the treatment she is on, and she's happy with the results.
When she last posted about it, she was staying with the products for continued hair wellness.
Nutrafol Supplements
Nutrafol is a supplement that many celebrities recommend. There are actually three variations:
Nutrafol Women

Nutrafol Women's Balance

Nutrafol Men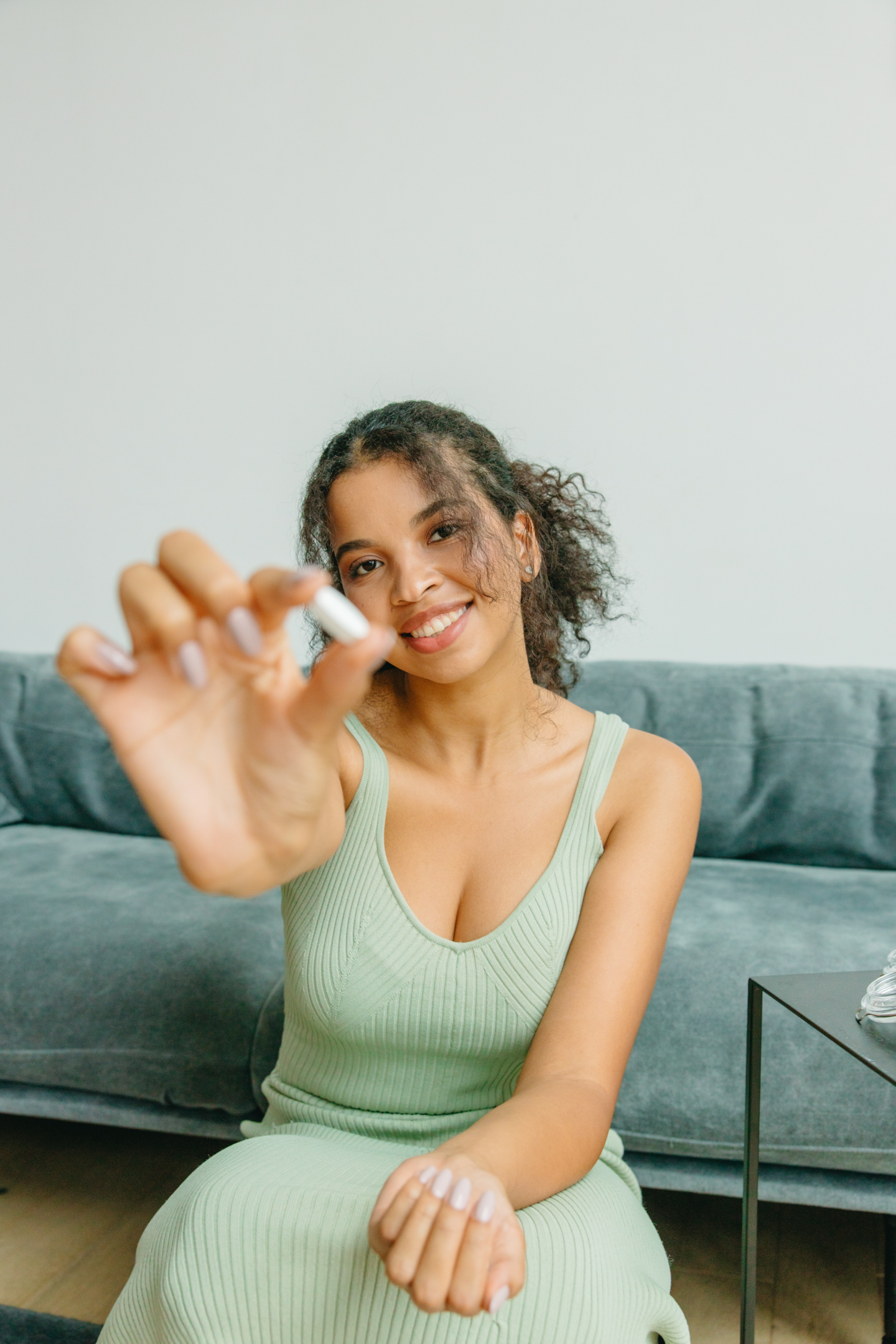 The two women's supplements are quite similar to each other, with some minor differences. For example, the Women's Balance option has ingredients that help balance hormones, making it perfect for menopausal women.
Their men's supplement is also good, with saw palmetto being included to help block DHT. More than one group has decided to independently research Nutrafol, with the results of the studies and clinical trials being posted openly on their website for anyone who wants to see them.
Related Reading
Nioxin Products
Though Alyssa took the Nioxin regimen, she only says that the shampoo and conditioner helped tremendously. It is possible she felt that these were the products that helped her hair the most.
The Nioxin shampoo has several variations; there are also six different Nioxin system kits available on their site. What each of these kits has in common is that they each contain a shampoo, conditioner, and scalp treatment you leave in.
Again, this actress didn't say on Twitter which one she was using for her hair recovery after COVID-19. These products all work for both men and women, however, so any option can be used on your hair.
Many of their shampoos have peppermint oil to help increase blood flow. Caffeine is an ingredient in some of their sets that does the same.
Silica is a good ingredient that strengthens hair and is in these products. However, Nicotinate is the main ingredient Nioxin includes in almost all their hair products. This is made of niacin (Vitamin B3) and is being researched for improving hair growth.
Final Thoughts
It can be comforting when a famous star has a common problem like hair loss. After all, they are regular people just like you and suffer from the same problems.
Unfortunately, post covid hair loss typically lasts about six months. Sometimes it grows back on its own after that. However, in other cases, any hair lost from COVID-19 seems to be permanent.
So, don't postpone trying these remedies out for your hair, because if these don't work, you may need to see a board-certified dermatologist.
Do you have any suggestions on brands or products that helped you grow your hair back after COVID? If so, I'd love to know what they are in the comments.