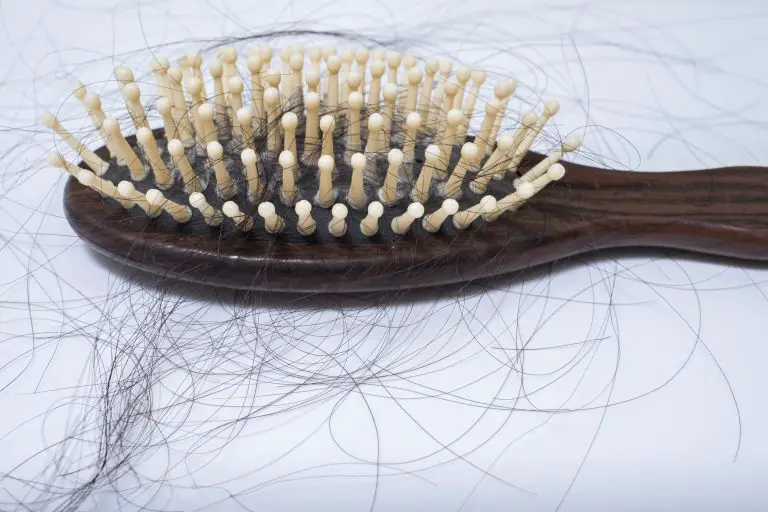 New babies are such a joy in life but the changes that happen to a new mom's body after the baby is born may not be joyful. Adjusting to what your body is like now isn't always easy. Postpartum hormone levels even affect your hair. This is not a permanent situation but is there anything that you can do to help?
Postpartum hair loss is common but it is important for new moms to know what to expect.  When you know what to expect and how to manage the loss for the short time that you have it, you will be less likely to be worried. It is also important to know that not all new moms have this problem. The most important thing to remember is that this hair loss is just temporary.
We won't just be talking about how to manage the hair loss associated with being a postpartum mom. You need to know the root cause behind the loss, how much loss is normal, and some ways to treat the loss so it won't be so severe. Understanding is half the battle when it comes to this type of hair loss so let's start there.
Causes of Post Partum Hair Loss
There is really one main cause of postpartum hair loss. Since that is the case we will take a more detailed look at the major cause and then look at a myth that is some new moms may believe. Because you go so long during pregnancy without shedding any hair it is not out of the ordinary for you to start shedding when the baby is born.
You may not have even noticed that you didn't shed any hair at all during pregnancy but it's true. This leads us to the one main reason you lose hair postpartum.
Hormones
Hormones are the culprit behind your postpartum hair loss. This is also the reason that you don't lose hair at all during pregnancy. During pregnancy, you have an increase in certain hormones. Those are the hormones that actually promote lush pregnancy hair and the lack of shedding.
You probably loved the way your hair looked and felt during your pregnancy. This excitement over having thick amazing hair that actually had some life may leave you more disappointed after you have the baby.
Three to six months postpartum you will have another hormone shift. This shift will actually start bringing your hormones back down to a normal level. After your hormone levels start returning to normal you will start shedding again. It may seem really dramatic but keep in mind that you haven't lost any hair for nine months.
You are not going bald so don't worry, your body is just catching up and getting rid of all of the pregnancy hair.
Does Breastfeeding Cause Hair Loss
There is a school of thought that breastfeeding your new baby will cause postpartum hair loss. However, that is not true. Most moms, not all, will experience some degree of postpartum hair loss even if they don't breastfeed their babies.
The natural hormonal shifts that happy after delivery are the reason you lose your hair. It is completely unrelated to how you end up feeding your baby. There are hormones related to breastfeeding but they do not have any effect on your hair growth or loss.
How Much Loss is Normal?
There does come a time that most new moms will wonder if the hair loss they are experiencing is normal. It is pretty easy to convince yourself that there must be something wrong and you are surely going to go bald.
You do need to know how much loss is considered normal so you will know when to go to your doctor and have a consultation. So how much hair loss is normal postpartum?
Keep in mind that you will be losing nine months of hair that did not shed like it would have if you had not been pregnant. When you are not pregnant then you will typically shed around 80 strands a day. It is really common to find strands on your pillowcase and in your hairbrush.
But when you are postpartum you will on average, shed 400 strands of hair a day. That is a dramatic difference. Because it is so dramatic, it is understandable that you will be concerned with going bald. Trust us, its normal. If the hair loss has not slowed down by six months postpartum then you might want to talk to your doctor.
Treatment Options
There really aren't a lot of treatment options when it comes to postpartum hair loss. This is just a normal part of the process but there are ways to support your body during the hormone shift. There are also some ways to help protect your hair and make it look fuller while you are losing the extra pregnancy hair.
Diet
Your diet is always important during pregnancy, postpartum, and breastfeeding. Really it is important at any time if you want to stay healthy. Making sure you are eating foods that naturally help keep your strong and healthy will go a long way in keeping hair loss to a minimum.
Proteins are one of the main things that need to be consumed during this time but there are other foods that will help as well. Leafy greens, sweet potatoes, carrots, eggs, and fish are also high in much-needed vitamins and minerals.
If you neglect your diet during this time it may result in you losing more hair than you would have had you maintained a healthy and vitamin-rich diet. This is really the best way to help with the postpartum hair loss as far as preventing more loss goes.
As we said, this hair loss is very normal and only temporary but if you don't take care of your body, it can become a larger issue than it should be.
Vitamins
When you are pregnant it is important to take a daily prenatal vitamin. Once you have delivered the baby it is also important to continue taking this vitamin. Especially if you are going to breastfeed your child.
Even if you don't breastfeed your baby, it is still a good idea to continue the prenatal vitamins for six months postpartum for the extra support. Making sure that you are using a high-quality vitamin will support your body as it changes after delivery. If you aren't sure what to use during this time then talk to your doctor to get a recommendation.
Try a New Shampoo
A way to actually try and make your hair look better as you are experiencing this hair loss is to try a new shampoo. Even if you have never needed to use a volumizing shampoo or conditioner before this may be a time to try.
Your hair, of course, is going to start looking noticeably thinner because of the hair loss so a volumizing shampoo might help with the overall look of your hair. This is a really inexpensive and practical way to help your hair during this time.
Avoid Harsh Styling Methods
It is important during this time to be kind to your hair when it comes to styling. Using harsh styling methods during postpartum hair loss will only make the issue worse. Try to avoid blow-drying your hair, straightening, or anything else that involves excessive heat or brushing.
You may miss it for a short time but you spend that time you won't be spending on your hair doing something else, like cuddling that adorable baby.
Dealing With Postpartum Hair Loss
Other than ways to treat postpartum hair loss there are ways to deal with it. We have found a few ways to help you feel better about the thinning hair. These methods will not keep your hair from thinning as your hormones shift but it will keep it from being so noticeable.
Try a Different Color or Style
While it is good to avoid some harsh styling methods, trying a new color or style done professionally wouldn't be a bad idea. Feeling new and fresh will do wonders for you as a new mom and may help you embrace this new time in your life.
Getting a great hair cut might help with the shedding as well. It may not be as noticeable after you have been to the salon. We would caution you not to color too often during this postpartum time because it could cause more hair loss.
Use Mousse
A good volumizing mousse will keep your hair looking full all day. This is kind of an illusion because your hair will still be shedding and thinner than it was when you were pregnant but keeping your hair looking nice will be worth it.
Another thing that you can do is to keep your hair moisturized. Using a leave-in conditioner after each shower will help your hair stay healthy and looking full.
Texture is Your Friend
If you have been wanting to try a curling look or let your natural curls show, then this is a great time to do it. Curly hair looks naturally fuller. Don't get a chemical perm though, you can just use foam curlers at home to add a full look.
Will Hair Loss Get Worse With Each Pregnancy?
There is really no easy answer to this question. Each pregnancy is very different no matter how you look at it. You may gain a lot of weight with one pregnancy and very little with another one. With that being said, the same is true for postpartum hair loss.
Just because you didn't really lose much hair postpartum with one pregnancy doesn't mean that the next pregnancy will be the same. You may lose more hair or no hair with the next one.
Not all women will even lose hair postpartum. It is true that most women will and that this kind of hair loss is very common but that doesn't mean everyone experiences it. If you do, we hope that this will give you some guidance of what to expect and when you should see a doctor.