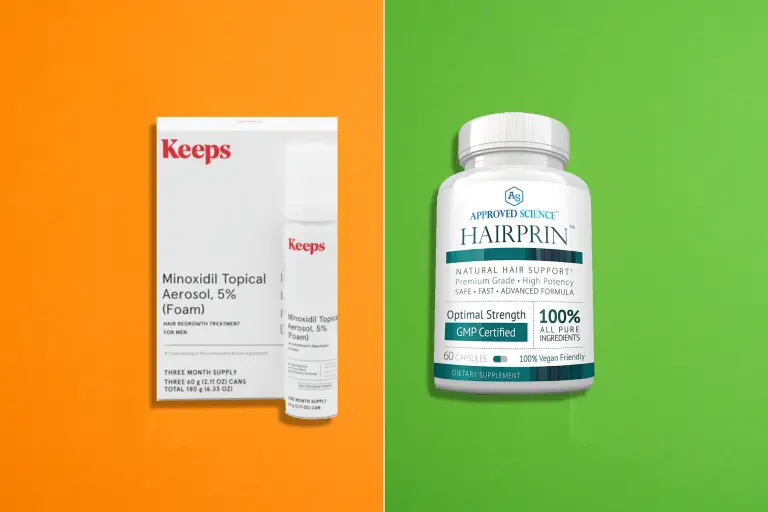 Looking up hair loss treatments will get you a huge array of results. There is literally everything out there, from old wives' fables to brand new hair loss formulas and a host of things in between.
Two of the things you are likely to come across in this realm are Keeps and Hairprin.
Both of these brands are ones that you are likely to see fairly often, as both are popular and give good results. However, deciding which brand and what product is best for you can require a bit more digging.
About Keeps
Keeps is not a hair product so much as it is a program. That said, Keeps does have its own products that it offers for hair loss.
It was founded by two men, Steve and Demetri, who were college friends who kept in touch years after they graduated.
Eventually, Steve began showing the obvious signs of losing his hair. Like the great friend he was, Demetri decided to help Steve find a hair loss product that would truly help him. Together, they were able to cure Steve's blading hair.
After many years, products, and a few ideas, these two friends decided that they wanted to share what they had learned so that other men like them would have an easier time of finding a hair product that helped them.
Therefore, they founded the Keeps program.
They formed a support system, made tools for it, and choose some of the best products that they had found. All of this was included in the Keeps program, which they talk about more on the Keeps website.
If you are interested in the Keeps program, you must go to the Keeps website and fill out their questionnaire.
This Keeps questionnaire will take you a few minutes to fill out and will ask you important questions that will help the workers at Keeps see the extent of your hair loss, your overall health, and other important matters.
Once completed, a Keeps physician will get in touch with you to touch base with you personally. This physician will go over your needs and preferences so that they can recommend the Keeps product that their professionals think will work the best for your specific case.
You are not forced use with the product that they want you to try.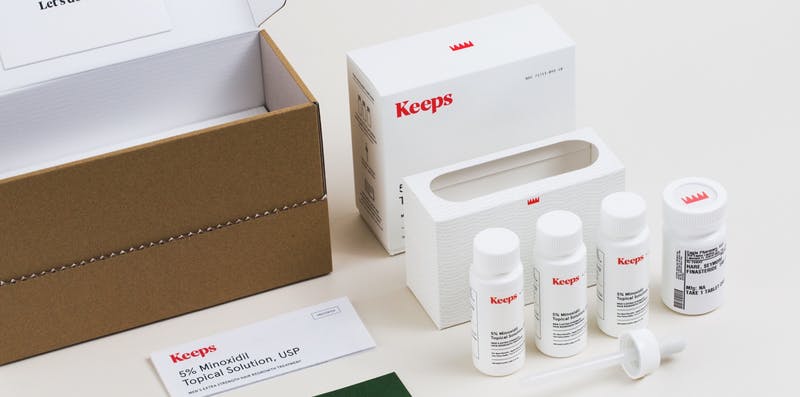 The Products
There are four main Keeps products that are a part of the program. Each of these Keeps products is chosen to be a part of this program because it has been proven to work.
Though Keeps has done nothing when it comes to developing brand new products, the products Keeps does use can all be described as tried and true.
The first Keeps product is Finasteride, which is a pill that is taken once daily. Finasteride should only be used and handled by men, as it affects the hormones.
Specifically, this Keeps product blocks DHT which is widely known to be a common cause of hair loss and especially male pattern baldness.
The Finasteride is best taken at roughly the same time every day but, other than that, you can take it on a full or empty stomach. This makes Finasteride convenient and easy to fit into any schedule, no matter how busy you are.
The next two Keeps products are both different forms of Minoxidil. While one is a liquid, the other is a Minoxidil foam. Both of these are 5% Minoxidil solutions that are applied directly to your scalp, and both come with a way to measure out the exact amount that you need to apply to your hair.
Minoxidil of any type is not very good for women to use. However, it is great for men and can be a huge help with pattern baldness.
Both the liquid and foam Minoxidil products are meant to be used twice a day and should never be applied to broken skin.
Finally, the last Keeps product is their Ketoconazole Shampoo.
Since hair loss can be caused in some cases by fungal infections of various kinds, this shampoo is an antifungal that can cure fungal infections.
Related Reading
The Advantages
There are many advantages to a program like Keeps.
First and foremost, Keeps gives you the availability to talk with doctors and professionals who know about hair loss. So often, you can doubt which hair loss product you should go with.
Then, there are also countless other questions that you can have about hair loss products.
Some of these questions include how long you should wait before you start getting results, what to do if the treatment makes your skin red or itchy, and many other questions.
Having someone you can talk to and ask, without having to leave your home or set up an appointment through your doctor, can be a real lifesaver. It can also prevent any problems such as taking a hair loss product that might interfere with your medications if you have a medical condition.
The fact that Keeps has a few different products that you can use enables you to get the best results.
You may even be able to use two Keeps products at once, such as the Finasteride and the Minoxidil, to give your hair growth an extra boost.
All of these products can be gotten quite cheaply by Keeps thanks to the fact that they make their products in bulk. I
n fact, even with the cost of shipping, these Keeps products are some of the cheapest that you can find.
Finally, the Keeps site has a lot of information on the various products that they offer.
Some of this information includes how long you can expect to wait before seeing results, what to expect if you stop taking the Keeps products, and other things that you will quite likely want to know.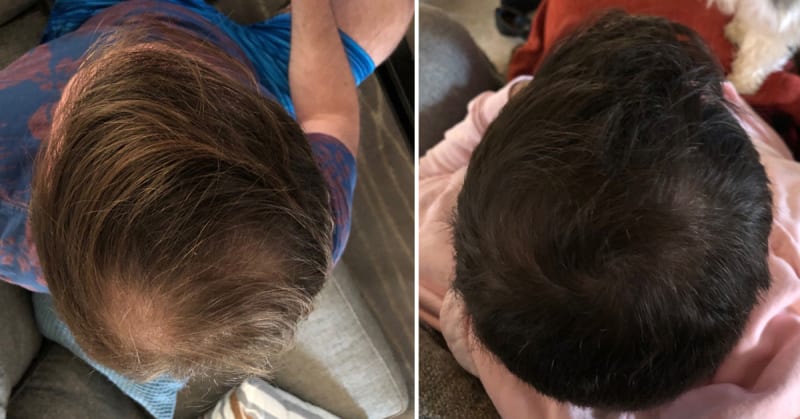 The Disadvantages
While the Keeps program obviously has its share of advantages, there are a few disadvantages as well. For starters, Keeps is primarily for men.
While Keeps will let you join even if you are a woman, all of their products are tailored for men.
Keeps also requires you to meet with your Keeps doctor periodically to go over how you are doing. This is charged by a fee, and the shipping is another fee, on top of paying for the medications themselves.
Keeping up with the Keeps program is not nearly as simple as just picking up a product from the store or ordering one online.
One large disadvantage to Keeps is the fact that none of their products are even close to what you could call natural.
While fairly simple and with a straightforward list of ingredients, Keeps products are still chemicals of some kind.
As a result, all of these Keeps products have various side effects that you can experience when you use them.
Some of these side effects, in extreme cases, have been known to be severe enough to warrant a trip to the hospital.
When using any of the Keeps products, you should especially make sure that your heart and lungs are in good health.
A fair number of the side effects from Keeps products can negatively affect both of these in addition to causing dizziness, rashes, allergic reactions, and other problems.
Finally, these Keeps products can also interfere with certain medications, which is why your Keeps doctor should be informed about any medications that you are currently taking.
In addition, one of the Keeps products can act as a blood thinner, so great care should be taken if you are accident-prone.  
About Hairprin
The company behind Hairprin is Approved Science. Their brand has been around for a while, and it is a great brand that sells other supplements as well.
The Approved Science brand does its best to make products that help the root problem instead of covering up symptoms.
Approved Science has a number of different supplements, each of which targets a specific problem that you might want help with.
Hairprin, for example, is the Approved Science supplement that has been specifically formulated to help with your hair growth.
There are four distinct ways that Hairprin helps your hair grow better.
First, it gives you're the nutrients that you require for hair growth in case you are deficient in any of them.
Second, it helps these get to your scalp while simultaneously prevent the DHT from getting to your scalp by blocking it.
Third and fourth, Hairprin stimulates new hair growth and prevents you from losing hair in the first place. Altogether, these four tactics combined ensure that your hair can grow back better almost no matter the cause behind you losing your hair.
These four steps that Approved Science made Hairprin to accomplish tackles virtually every problem that might be affecting your hair. All of this is in a simple pill that is swallowed twice a day. This is simple and will not require any changes in your schedule.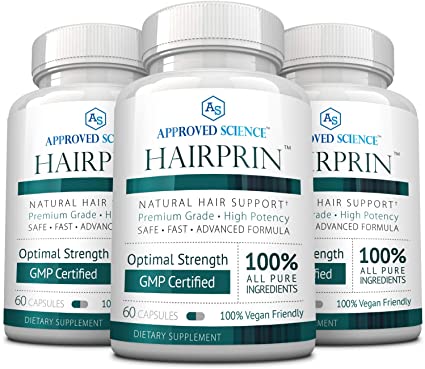 The Ingredients
Approved Science uses only ingredients in Hairprin that have been proven to work for your hair in some way. Saw palmetto and Fo-Ti are prime examples of ingredients that are widely known to be good for your hair. These have been proven to help your hair growth.
Ginkgo, while less known, is also great for your hair.
In fact, this plant is good for your whole body, containing antioxidants to help postpone aging. Borage and silica might not be plants things that you are familiar with, but these are beneficial for your hair as well.
Even less common are Methylsulfonylmethane (MSM), L-Methionine, and L-Cysteine. These three ingredients are all different forms of sulfur.
The first is an anti-inflammatory, with the second being a powerful antioxidant and the third being a vital amino acid for the forming of your hair.
Altogether, these three sulfurs also help the other amino acids, promote your collagen and keratin levels, and strengthen your hair too. The selenium is added for this purpose as well, but it focuses more on helping you to absorb the other nutrients.
These include Vitamin A and Vitamin E, both of which are also antioxidants that protect your hair and repair damage.
Then Hairprin has a whole B complex with B2, B5, B6, and B12 in it to help your hair.
The Folic acid and biotin help with your keratin levels and elasticity of your hair.
Other than those, Hairprin also has zinc, iron, and copper in it. These three Hairprin ingredients transport the nutrients where they are most needed and help you absorb everything.
Finally, Hairprin has iodine in it, which is a micronutrient your hair uses. Its function is to stimulate the hormone that triggers your hair to grow.
The Advantages
The ingredients of Hairprin is one of its top advantages, and they are definitely worth mentioning.
So many hair supplement products similar to Hairprin have negative ingredients that can potentially cause side effects.
Almost just as bad are the hair supplements that have ingredients that are virtually useless. These 'filler' ingredients are nowhere to be found in Hairprin.
Every single ingredient is not only openly listed but has a purpose.
More than having a purpose, the Hairprin ingredients can help your whole body. Thank mostly to the B complex, people who use Hairprin sometimes remark about having more energy.
Hairprin will also strengthen your nails and help your skin too, in addition to helping your hair.
These Hairprin benefits are all ones that you can appreciate, and you only have to take two pills a day.
With Hairprin, there is no messy hair mask, no harmful chemicals, and no having to schedule time to apply it.
Hairprin is not expensive either, with this hair growth supplement costing around the same price as any other supplement or vitamin. This price is far less than many other hair loss treatments that you can find.
Also, since Hairprin is taken internally, this gives you the option of using a topical hair growth treatment too.
Combining Hairprin with a hair growth treatment that is applied directly onto your scalp will help give your hair more of a boost.
While Hairprin is not as balanced as a daily multivitamin, it may be all you need.
Finally, Hairprin can be used for any stage of hair loss, and for both men and women. Since it covers so many hair problems, you are almost bound to see some results, no matter what is affecting your hair.
The Disadvantages
Approved Science claims that they do studies on each of the ingredients that they put in their supplements. However, they do not share what the results of these supposed studies are or give any further information.
Also, though the ingredients of Hairprin are natural, it is not without side effects that you should know about.
Some of the more common things include nausea, headaches, and dizziness.
Some people using Hairprin find that it acts as a mild blood thinner too, which can be cause for great concern.
However, Hairprin's three sulfur-based ingredients, while good for your hair, have disadvantages of their own.
If you have ever smelled sulfur, you may be aware that the smell is compared to rotten eggs for good reason.
The Hairprin pills smell bad, making it harder to swallow them, especially if you have a strong gag reflex. In fact, it is partially the smell that can make you nauseous.
The sulfur also has the tendency to upset your stomach too.
Other than the side effects, Hairprin is also definitely not a direct treatment.
Since Hairprin does not go directly on your scalp, it is limited to helping your hair indirectly. This is inefficient, and it can take longer before you start to see results for your hair.
The fact that Hairprin will try to help your whole body is nice for your health. However, this fact also prevents Hairprin from truly focusing on helping your hair to grow.
While it is possible to combine Hairprin with another hair loss treatment, it will take more money to buy both.
Finally, there is simply the fact that Hairprin doesn't work for everyone. While Hairprin will work for most people, it can take weeks before you start seeing results for your hair.
Comparing Keeps And Hairprin
Keeps and Hairprin can be compared to each other in many different ways. As to how these two products work, Hairprin takes many different approaches all in one product that is natural and good for you.
On the other hand, the Keeps program has multiple different products that are not nearly as good for you.
Hairprin, therefore, has few to no side effects, while the Keeps products have several side effects each. This makes Hairprin a no-brainer if you are looking for a healthy way to treat your hair loss.
It is also better if you have medical conditions or are taking any form of medication.
Hairprin is also a no-brainer if you are a woman since Keeps is more for men.
The Keeps Finasteride is a simple pill like Hairprin is. However, the other Keeps products are much more time-consuming to try.
However, Hairprin is a simple product, not a program like Keeps is. This means that, when going with Hairprin, you won't get to consult with a doctor or a specialist.
You can call Hairprin's customer service if needed. Still, the person you reach will most likely only be a customer service agent and not someone who has a degree.
Therefore, if you have questions and want the availability to talk to someone, the Keeps program might be perfect for you. T
he keeps program even comes with a few simple tools to help you keep track of your hair growth. This allows you to see the difference.
The cost of these two is quite comparable, with both options being fairly inexpensive. Both Hairprin and the Keeps products can be bought at home and shipped directly to you, and both have the availability of auto-ship that you can use.
Conclusion
There is a lot going for both Keeps and Hairprin, though it is up to you to decide whether the single product or the program is a better fit for you.
Both of these options are ones that will help you with your hair journey.
However, there are other options besides these that you can look at if neither one of these seems to fit. There is much more information on products like Folexin than there is for either of these products.
If you like how natural Hairprin is and the ingredients that it has in it, then Folexin may be an even better option for you than Hairprin is.
Folexin has more active ingredients, more documented results, and a guaranteed timeframe for which you should start to see results. In addition, it doesn't have the unpleasant smell that Hairprin has.
In fact, the Folexin ingredients are slightly gentler on your stomach too, should the Saw Palmetto or biotin give you problems.
So, if you are leaning more towards Hairprin, you should also take a look at Folexin.
Though you can only purchase Folexin from their brand website, it can be slightly cheaper than buying Hairprin, and you won't risk getting a knock-off product.