Stories of dramatic hair transformations by celebrities are quite rife.
Ricky Ponting's hair transplant is one of these stories that shocked the world of cricket years ago.
While Ponting was thriving in his cricket career, he was facing problems of thinning hair.
Most of the fans saw him with a cap, and whenever he stepped out, he came up with a balding head.
However, he came up with a head full of hair during the ICC awards in 2007 and surprised everyone with his crowning glory.
It would not be wrong to say that Ricky Ponting's hair transplant put him in a very unusual cricket celebrities club, which includes the likes of Shane Warne and Virender Sehwag.
He has entered the new club of cricketers getting hair transplants done.
At first, Ponting and people close to him did not give comments on whether he had undergone a hair transplant or not.
Some experts also suggest that Ponting never really went through a hair transplant.
Instead, he likely went through a six-month laser treatment, which helped him in growing a thick crop on his head. In addition to that, it is rumored that Ricky used minoxidil, also known as Rogaine. So what did Ponting opt with?
Is Ricky Ponting's Hair Transplant a True Story?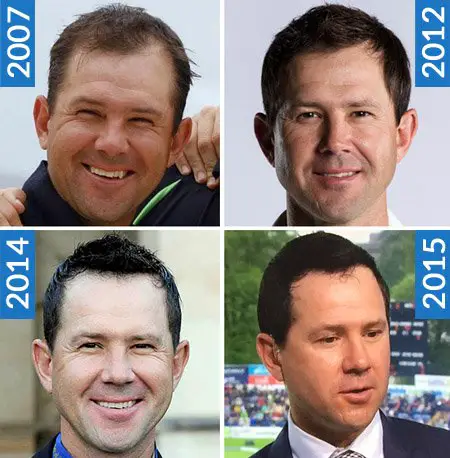 Well, back in 2007, it could have been a stigma for the cricketer to go ahead and admit that he had opted for a hair transplant surgery to get a thicker crop.
However, the fact that he was on a 5-month break before he finally stepped out with the new crops makes it quite apparent that Ponting underwent a new crop.
He had utterly new hair, which can only be achieved when you get a hair transplant surgery performed.
Therefore, we can say that Ricky Ponting's hair transplant story is real, and he indeed underwent the procedure to join several other Australians who are swearing about the benefits of hair transplants.
Ponting was one of the few people who saw quite dramatic results with a hair transplant.
Related Reading
Though results are useful for many people who go through a transplant, Ponting's hair is worth a mention as it showcases the best that hair transplant can do for anyone.
If you are also suffering from hair fall issues, then you can also follow Ponting's footsteps and get a hair transplant done.
This procedure has become safer with time and has undoubtedly helped thousands in regaining their confidence.
Tired of chasing down hair growth solutions without the results you're after? Make sure you're using the 3 hair loss products known to work before experimenting with alternative solutions – you may be surprised with how effective those 3 alone can be.