Hair Jazz is not yet one of the more popular hair growth brands, but it is steadily growing in popularity. This brand has multiple different hair growth products, and a few other hair care products that are focused more on helping your hair stay shiny.
That said, the main reason you are likely looking into Hair Jazz products is to make your hair grow. But does Hair Jazz actually work and make your hair grow thicker faster? First, a little more knowledge about Hair Jazz is needed, and then knowing what product options they have for hair growth is also important.
About Hair Jazz
The Hair Jazz brand was first started up in the southern part of France years ago under the parentage of a cosmetic company called Institut Claude Bell. This company was already quite popular at that point in time thanks to its innovative hair care line of products.
These products were and are enriched with active ingredients to encourage natural hair growth. Institut Claude Bell is still known for treating hair loss and thinning. Before Institut releases any product, they first do many tests, including bacteriological tests, toxicological studies, and clinical trials.
These studies, tests, and trials all make sure that their products both work well and that they are safe to use. Institut Claude Bell is still in the south of France. However, they sell their hair products all over the world.
In the USA, Harmony Life USA is the one company that has the exclusive rights to distribute Hair Jazz products. You cannot even buy Hair Jazz products from your local grocery store or from online sites like Amazon.
Harmony Life has created a Hair Jazz website, which is virtually the only place where you can buy Hair Jazz products. A few salons may sell Hair Jazz, but this is only if they have asked for and received special permission ahead of time to do so.
This is good, in a way, since it means that if you buy Hair Jazz then you are guaranteed to not get a knock-off product. When you buy a Hair Jazz product, you will be getting the real deal. And their website is easy to order from, with their shipping going anywhere in the USA.
Hair Jazz Products consist of hair growth pills, hair growth shampoo, hair growth conditioner, hair serum, hair cream, heat protectant spray, and several other hair products.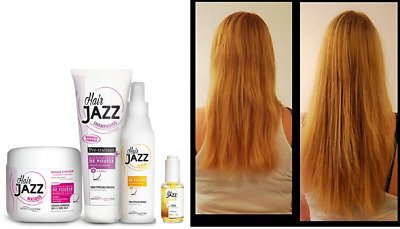 The Hair Jazz Growth Products
As mentioned, Hair Jazz has a few products that are specifically geared toward hair growth. Which option is best for your hair, only you can say. However, these Hair Jazz products are all simple, easy to use, and effective.
Hair Jazz Hair Growth Vitamins
Like with any hair growth vitamin, this Hair Jazz Hair Growth Vitamin comes in the form of a pill. There are 60 hair growth vitamins in each bottle of which you take two a day. Therefore, one bottle of this Hair Jazz vitamin should last you one month.
The main goal of this growth vitamin is to make your hair grow faster, grow thicker, and become both softer and shinier while reducing some of your hair loss. Hair Jazz made this vitamin to work for all hair types and all ages.
It has three main ingredients: Keratin, Biotin, and Vitamin B6. There are other ingredients in this Hair Jazz vitamin, but these three are the most important. The Keratin strengthens your hair, helping it look both fuller and glossier.
Meanwhile, the Vitamin B6 keeps your hair healthy. B6 is truly one of the most beneficial vitamins for both your hair and your skin. The Biotin prevents hair loss and stimulates hair growth. It also thickens your nails and makes your skin more vibrant.
Hair Jazz Pro Hair Growth Stimulating Shampoo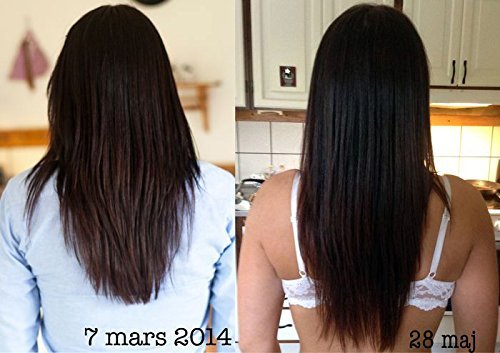 This shampoo from Hair Jazz only needs to be applied to your hair every other day or every two to three days. After wetting your hair, lather in the Hair Jazz shampoo for 1 to 2 minutes and then let it sit 1 to 2 more minutes before rinsing the growth shampoo out.
The only active ingredients given for this shampoo are soy protein, Vitamin B6, Keratin, eggshell extract, and Chitin. These nourish your hair follicles, accelerate your hair growth, reduce your hair loss, and promote new hairs to grow.
Hair Jazz Hair Growth Accelerating Lotion
Hair Jazz Hair Growth Accelerating Lotion is made to accelerate your hair growth. Some of the active ingredients in the hair lotion are Soy protein, Vitamin B6, Keratin, eggshell extract, and Chitin. These help your hair grow in many different ways.
You apply the lotion on your towel-dried hair. Contrary to what you might think, this lotion is in a spray bottle so that you spray it directly onto your scalp. Massage the Hair Jazz lotion in gently for a couple of minutes and do not rinse it out.
The Hair Jazz Companion Products
Hair Jazz has more than just hair growth products. Their other products, while not specifically made for hair growth, can still help your hair grow better. When paired with the Hair Jazz growth products, they can help you get the most out of both.
Hair Jazz Pro Hyaluronic Repair Conditioner
The Hair Jazz Conditioner is used just like other conditioners, needing to sit in your hair for only a minute or two. The purpose of this conditioner is to restore the structure to your hair that has been damaged and to prevent further damage.
This is not only from everyday damage but from damage due to oxidation and breakage. The result of this is that Hair Jazz conditioner will make your hair visibly softer and shinier. This repair conditioner also helps prevent your hair from aging and graying prematurely.
The active ingredients in this Hair Jazz include Hyaluronic acid, Argan oil, Coconut oil, Shea butter, Soybean oil, and Vitamin E, but there are other things in it too. These are great at hydrating your hair, and they give your hair a protective coating to help it shine.
Hair Jazz Serum
The hair serum from Hair Jazz does require you to use it in a very specific way, but it is terrific for your hair. Spray the serum onto your fingers and then run your fingers through your dry hair ends. Don't brush your hair for at least a few minutes after applying the serum to it.
The active ingredients include Vitamin E, sunflower oil, and goji berries. Goji berries are not only a superfood for your body, but they are also a superfood for your hair too. And a superfood for your hair is exactly what this serum is meant to be.
All in all, the Hair Jazz serum gives your hair a polished look by healing damage. This hair serum is made without silicones to intensively moisturize your hair.
Hair Jazz Hair Cream
The idea behind the Hair Jazz Hair Cream is that your hair needs hydration just as much as your face does. Apply the cream to your towel-dried hair and then do whatever you usually do with it. You don't need to rinse this Hair Jazz cream out at all.
This hair cream seals up your split ends and other damage, protecting your hair as much as possible. Shea butter and peach oil are the two main ingredients, along with a patented Amisol Trio. These ingredients both repair and coat the entire length of your hair.
Hair Jazz Heat Protectant Spray
Heat protectant spray is very important for your hair, especially if you do a lot of heat styling. This Hair Jazz spray is infused with keratin in order to both rebuild your hair structure and protect it. This Keratin coats your hair completely.
The other main ingredient is a specific SEPICAP MP thermo-activated, which activates to protect your hair when there is heat. Hair Jazz Heat Protectant Spray shields your hair both from the damaging effects of heat styling and from UV damage.
Simply spray the protectant onto your damp hair before even using your hairdryer. This spray has the added benefit of making your hair smooth and easier to style. Stronger hair strands will also mean less breakage thanks to the Keratin.
Hair Jazz Intense Nutrition Mask
This Hair Jazz mask is a must have if your hair is badly damaged. Its main ingredient is shea butter to deeply nourish your hair. This mask is meant to be used exactly the same way conditioner is. Simply shampoo your hair, apply the mask, let it sit, and then rinse it out after a few minutes.
Pros And Cons Of Hair Jazz
There are countless pros and cons of using any Hair Jazz products, just as there are pros and cons for each individual hair product. These can help sway your decision either for or against using Hair Jazz products but are useful to know either way.
The Ingredients
While Hair Jazz does share some of the ingredients in their products, for the most part, they keep this information to themselves. They do not list out their ingredients for you to look at, nor do they say whether or not any studies at all have been done on these ingredients to prove that they work.
The fact that it is hard to find the ingredients for the Hair Jazz products unless you buy them is not something in their favor. It does raise the question as to if there might be things in the ingredients that you would likely rather not be putting on your hair.
The Hair Jazz products do claim to be SLS-free, cruelty-free, and hormone-free. However, there is no mention of sulfates, parabens, sodium, or any of the other ingredients that are important to avoid. This means that these ingredients are quite possibly in the Hair Jazz hair products.
The lack of information here should make you cautious about buy products from Hair Jazz. However, Hair Jazz definitely does give you results, so you may decide that it is worth whatever risk there is.

Price And Discounts
Hair Jazz products are certainly expensive. The average hair growth pill, for example, costs about a dollar a day or a little less. The Hair Jazz Hair Growth Vitamins, however, cost more than a dollar a day, and they are not even a full multi-vitamin.
However, Hair Jazz has fairly regular discounts and sales that they offer. There are packages that allow you to buy several of the Hair Jazz products as a set. This, of course, is cheaper than buying each item individually.
Hair Jazz also does things like Black Friday sales and sales for other occasions. This helps cut the cost even more, though you do have to watch for these. Finally, some of their products can be purchased in larger amounts at once for a cheaper price.
Even with these discounts, Hair Jazz products are still a little more on the expensive side. However, these products are not ridiculously expensive, and they may well be worth the price you pay for them.
Returns And Refunds
Hair Jazz's policy on refunds and returns depends largely on whether or not you have opened or used some of the product yet. If your Hair Jazz product is unopened, you can return your hair product for a full refund within 14 days.
This is not a lot of time but, if you don't plan on using your hair product, it should be long enough. Once Hair Jazz gets their item back, they will give you a full refund. However, you should also be fully aware that you will have to pay for your own shipping costs to return the item.
If there is some other type of defect with your Hair Jazz product, you can email them. Hair Jazz will usually give you an idea of how long it will take and what they might do in any given situation. Whether your item is damaged, or you are having a reaction of some kind to their product, Hair Jazz does like you to send pictures.
Hair Jazz does not accept returns of products unless they are in some way defective. However, if you are having a reaction to their product, they do want to know about it. This is not very helpful, and there are other hair companies that have return policies that are far more friendly.