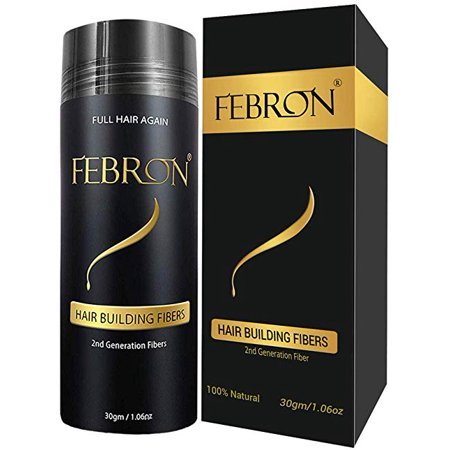 No matter the reason for thinning hair, finding a solution that works, and is believable, can be a time consuming and costly adventure. Discover Febron hair thickening fibers.
Febron Premium hair fibers are simple to use, colored keratin hair fiber that works naturally to fill in the spaces where thinning hair is taking its toll. Keratin, a naturally occurring fiber, grows in human hair and skin.
Febron has scientifically manufactured a keratin fiber so close to the natural keratin in human hair. As Febron Premium is applied to the thinning areas, it fuses or clings to the hair follicle, creating an instantly thicker look.
Hair Loss Solutions the Febron Way
Febron Premium hair fibers are very light and don't weigh down the hair. The fibers are intricately formulated to be barely noticeable. Febron products are always preservative-free and contain no harsh antibiotics, disinfectants and antiseptics, known as bactericides.
Save chemicals to treat weeds in the lawn and scum in the pool. Leave man made chemicals out of the hair and scalp. Febron will cover it naturally.
Febron Proof & Results
Nominated in 2018 for Best Hair Thickening Fibers, Febron Premium is known and respected by Hollywood hairstylists and makeup artists as a go-to for fast, quick, believable results and touch ups.
In 30 seconds Febron can transform thinning hair. Before committing to Febron, the company offers a free sample to try. Simply contact customer support to request a custom colored sample. If unsure what color to ask for, send Febron a picture of your current hair color. Febron will send back the perfect sample color match!
The basic structure of Febron's keratin hair fibers is what makes the product so durable and reliable. The 100% natural keratin hair fibers guarantee hypoallergenic and comfortable product to wear. The fibers won't stain the skin or the sink.
Febron is water-resistant and won't react to perspiration. Febron hair fibers stay put between shampooing. These features of Febron are important because of the science used to build the keratin fibers.
Keratin holds electricity, and the charges in Febron keratin hair fibers carry a stronger fibrous electricity than the competitive fiber hair thickening brands. This guarantees a stronger, long hold.
Apply Febron hair fibers to clean, dry hair. Simply shake the keratin fibers into the part line and areas where hair is thinning. With the desired area covered, use a hand to pat the fibers onto the hair.
This process disperses the fibers and allows for better adherence. All hair colors will work with Febron, even gray roots and color-treated growth roots. For the best results with color treated hair, Febron hair fiber colors can be mixed and matched. The Q&A section of the Febron website has some great color mixing tips! For additional information about ordering Febron hair fibers or other Febron products, go shopping here!
After applying Febron fibers, always avoid using heat-controlled appliances, such as hair dryers and curling irons. Hair mousse, gels and treatments should be applied to hair first. Make sure hair is completely dry at the roots. Damp hair, hair products and heat-controlled appliances can cause the Febron hair fibers to shift and clump, or release from the follicle.
Worry-Free Febron
Febron Premium keratin hair fibers are trusted and worry-free. During the initial application process, watch for minor side effects which can include skin irritation or rash. Discontinue use if skin reacts to the product. Avoid inhaling the product or getting in or near the eyes. More pros than cons make Febron Premium keratin hair fibers a superior and trusted product.
Big name Hollywood uses Febron Premium for authenticity and all-day wear. The likes of Disney, CNN, Fox News and MTv to name a few. And many happy consumers have found a confidence boost with Febron Premium keratin hair fibers.
Check out the comments here! Don't worry about buying into a contract, or managing monthly shipments. An auto-ship option is available if Febron Premium becomes a die-hard favorite. The value of the free sample product, just to try Febron, retails for $12.95. Most other brands don't offer this kind of trial.
It says a lot about a company that believes wholly in the performance and results of their product. With a 100% satisfaction guarantee and 30 days to try Febron Premium or your money back, it's easy to "imagine yourself with a full head of hair!"