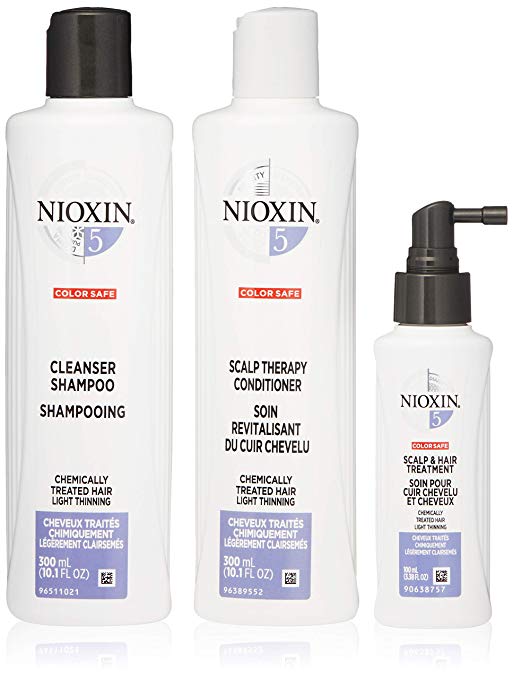 Since it's inception on the market in 1987, Nioxin shampoo has been a popular hair care product. Over the last few decades, they have continued to add to their line of products, which are stated to make fine and thin hair better. However, they have avoided making the claim of truly being a hair loss product. In fact, their website goes so far to even state "Nioxin is not a hair loss product, but a scalp and hair care regimen designed to improve the scalp health environment and improve the appearance of fine and thin-looking hair." While this is likely to avoid legal ramification, their product can be used to boost hair growth, here are the reasons why.
Benefits of Nioxin
When Nioxin shampoos are used, they can help boost hair growth by removing sebum from your scalp. The sebum is known to contain testosterone and DHT (dihydrotestosterone) and has been cited to be one of the main causes of male pattern hair loss.
Nioxin on their own site states that it improves scalp health, which in turn will help prevent hair loss.
A Look at the Reviews
When you take a glance at Amazon at the Nioxin shampoos and conditioners, you will easily find hundreds of five-star reviews by happy customers. With all the different product lines to choose, you can see hundreds of people sharing the amazing benefits that they've seen with reduction of hair fall.
You'll see quotes like "I love it!" and "It really works." You'll also see reviews stating, "Hair is coming out a lot less when I wash it."
Could all these people be wrong? We don't think so. Even though the company itself doesn't want you to believe that they are a hair loss product, reviews only state the opposite!
Which Product Will Help You
The product line is full of different options that can help you regrow your hair. Picking the correct product for your hair regrowth will be important to see results.
Nioxin System 1 and 2
PROFESSIONAL HAIR AND SCALP CLEANSER SHAMPOO for fine, non chemically treated hair with light thinning Award:...
DETOXIFYING SHAMPOO leaves hair growing healthily with body, volume and shine
CLEANSING SHAMPOO removes product build up, minerals, pollutants and toxins
You can find this formula at many online retailers. It is a cleanser and condition that works on the roots of your hair. The goal of this product is to strengthen your roots and block/reduce DHT. If you have fine or normal hair, this is the product you'd want to start with.
Nioxin System 3
PROFESSIONAL HAIR AND SCALP CLEANSER SHAMPOO for color treated hair with light thinning Award: Behind the Chair...
NOURISH SCALP FOR STRONGER HAIR plus relieves tightness and tension from dryness
MOISTURIZES AND CLEANSES DRY SCALP and chemically treated hair for thicker, fuller looking hair
This is also for fine and thin hair. It's also a great option for chemically treated and/or colored hair. It helps thicken the hair shaft and help hair fall. This will provide more coverage to balding spots.
Nioxin System 4
PROFESSIONAL HAIR AND SCALP CLEANSER SHAMPOO for color treated hair with progressed thinning Award: Behind the...
MOISTURIZES AND CLEANSES DRY SCALP and chemically treated hair for thicker, fuller looking hair
REMOVES follicle clogging sebum, fatty acids, and environmental residues from hair and scalp with Activ Renewal...
This system is also a cleanser and conditioner, but unlike 1 and 2, it is designed for chemically relaxed or color-treated hair. You'll still see the same benefits as the previous product, but in a formula that is safe to use without causing more damage or color to fade.
Nioxin System 5 (Starter Kit)
Nioxin System 5 helps you achieve thicker, fuller looking and moisturized hair Award: Behind the Chair Stylist...
REDUCES HAIR LOSS due to breakage and strengthens the hair, while refreshing the scalp and delivering a healthy...
Complete PROFESSIONAL HAIR THICKENING TREATMENT for bleached/chemically treated hair with light thinning
Other than the shampoo and conditioner, this kit has a scalp treatment, which is why Nioxin products are so effective. If you're looking for results within 6 weeks, massage the oil into your scalp in the morning and at night. But you must use the treatment on a daily basis.
Nioxin System 6
A lightweight conditioner that helps provide hair resilience and control moisture balance
Dual shield technology helps provide protection and moisture balance to color-treated hair, and leaves the scalp...
With vitamins, botanicals, SPF 15 sunscreen, and purifying agents
This is the best product for people with coarse medium hair that is thinning. It is also safe to use who have colored or chemically treated hair.
The name gives this product away! It's a thickening product that boosts each strand of hair to help improve volume.
Why You Should Try Nioxin
If you are facing hair fall or beginning to notice bald spots, adding Nioxin is a great step. Although it is not approved by the FDA as a "hair loss treatment" the product has been around for decades and as mentioned above has rave reviews! When you use the system, you should see these amazing benefits:
Increased thickness in hair
Decrease in hair fall
Stronger, thicker hair
Reduced itching, flaking and scaling scalp
Reduction in dandruff
The product is a wonderful option and if used properly can help you continue to retain your hairline and help with baldness. The best part is that there are numerous formulas available for you to ensure you're using the right product for your hair type. So if you're ready to see improvement in the next six weeks, using Nioxin is strongly recommended.
Tired of chasing down hair growth solutions without the results you're after? Make sure you're using the 3 hair loss products known to work before experimenting with alternative solutions – you may be surprised with how effective those 3 alone can be.